media converter
Media Converter
(networking)

A component used in

Ethernet

, although it is not part of the

IEEE

standard. The IEEE standard states that all segments must be linked with repeaters. Media converters were developed as a simpler, cheaper alternative to repeaters. However, in the 1990s the cost difference between the two is negligible.
media converter
(1) Software that converts one type of file format into another. See data conversion.

(2) Hardware that connects different cable types.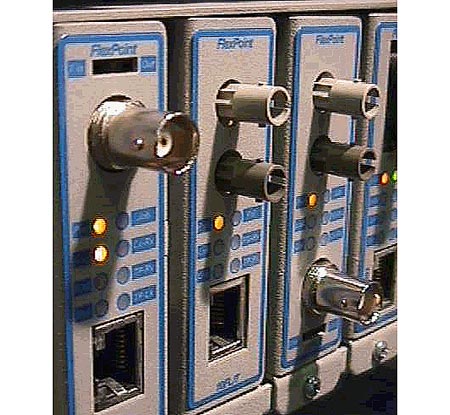 Ethernet Media Converters
These Omnitron converters connect different Ethernets. Left: coax and twisted pair. Middle: fiber and twisted pair. Right: fiber and coax. (Image courtesy of Omnitron Systems Technology, Inc., www.omnitron-systems.com) See 10Base-T, 10Base2 and 10Base-F.