menthol
Also found in:
Dictionary
,
Thesaurus
,
Medical
,
Wikipedia
.
menthol
menthol,
white crystalline substance with a characteristic pungent odor. It is derived from the oil of the peppermint plant,
Mentha piperita
(see
mint
), or prepared synthetically from coal tar. An alcohol, menthol is freely soluble in ethyl alcohol, ether, and chloroform. It is a local anesthetic and helps relieve itching, and because it imparts a tingling sensation to the skin, it is used in after shave lotions and skin fresheners. It is also used in throat lozenges, inhalers, and as a flavoring.
The Columbia Electronic Encyclopedia™ Copyright © 2022, Columbia University Press. Licensed from Columbia University Press. All rights reserved.
The following article is from The Great Soviet Encyclopedia (1979). It might be outdated or ideologically biased.
Menthol
3-methyl-6-isopropylcyclohexanol; colorless crystals with a peppermint odor and a slightly bitter taste.
Menthol is readily soluble in organic solvents and slightly soluble in water. It has a strong cooling effect on the skin. There are 12 known stereoisomers, the most widely occurring in nature being the levorotatory ( — )-menthol (melting point, 43°C; boiling point, 216°C). This form is the principal constituent of peppermint oil (to 50 percent) and Japanese mint oil (to 90 percent); the congelation process is used to extract it. Menthol is usually synthesized by the hydrogenation of thymol.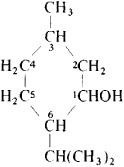 Menthol is a mild analgesic and disinfectant. It is used externally in alcohol, ether-alcohol, and oil-based solutions to relieve itching, neuralgia, and migraine. Menthol ointments, inhalants, and nose drops are prescribed for inflammations of the upper respiratory tract (common cold, tracheitis). Menthol is prepared in emulsion form for internal use as a sedative in the treatment of certain gastrointestinal diseases. Ingakamf inhalers, Zelenin drops, and Validol are menthol-containing products. Menthol is also used in perfume and cosmetics (in dental-care products), in the food industry (liqueurs, candy), and in flavoring tobacco.
The Great Soviet Encyclopedia, 3rd Edition (1970-1979). © 2010 The Gale Group, Inc. All rights reserved.
menthol
[

′men'thȯl

]

(organic chemistry)

CH3C6H9(C3H7)OH An alcohol-soluble, white crystalline compound that may exist in levo form or a mixture of dextro and levo isomers; used in medicines and perfumes, and as a flavoring agent. Also known as peppermint camphor.

McGraw-Hill Dictionary of Scientific & Technical Terms, 6E, Copyright © 2003 by The McGraw-Hill Companies, Inc.
menthol
an optically active organic compound found in peppermint oil and used as an antiseptic, in inhalants, and as an analgesic. Formula: C10H20O
Collins Discovery Encyclopedia, 1st edition © HarperCollins Publishers 2005