mercury barometer
Also found in:
Dictionary
,
Thesaurus
,
Wikipedia
.
mercury barometer
[

′mər·kyə·rē bə′räm·əd·ər

]

(engineering)

An instrument which determines atmospheric pressure by measuring the height of a column of mercury which the atmosphere will support; the mercury is in a glass tube closed at one end and placed, open end down, in a well of mercury. Also known as Torricellian barometer.
mercury barometer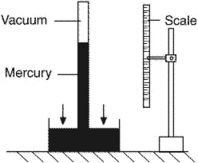 An absolute pressure gauge specifically designed to measure atmosphere pressure and its change. It consists of a long, hollow glass tube from which air is evacuated. It is placed upside down in a cistern filled with mercury. The pressure of the outside air forces the mercury in the cistern upward into the vacuum chamber. This rise in the level of mercury is dependent on the prevalent atmospheric pressure. The absolute atmospheric pressure can be read off the tube by suitably calibrating it.