meridian
(redirected from meridian theory)
Also found in:
Dictionary
,
Thesaurus
,
Medical
,
Legal
,
Financial
.
Meridian
(mərĭd`ēən)

, city (1990 pop. 41,036), seat of Lauderdale co., E Miss., near the Ala. line; settled 1831, inc. 1860. It is an important rail and highway point and the trade and shipping center for a farm, livestock, and timber area. There is also diverse manufacturing. In the Civil War, Meridian was the temporary capital of Mississippi (1863); it was destroyed by General Sherman in Feb., 1864. Meridian Naval Air Station is to the north. Nearby Okatibbee Reservoir offers recreational activities.
meridian
(mĕ-rid -ee-ăn)
1. An imaginary great circle passing through a point on the surface of a body, such as a planet or satellite, at right angles to the equator and passing through the north and south poles.
2.
Short for
celestial meridian. The projection of the observer's terrestrial meridian on the
celestial sphere
. It is thus the great circle passing through the north and south
celestial poles
and the observer's zenith and intersecting the observer's horizon at the north and south points (see
cardinal points
).
Meridian
(religion, spiritualism, and occult)

A meridian (from the Latin word for "midday") is formed by taking a line of longitude and projecting it outward from Earth onto the celestial sphere. Another way of imagining a meridian is to picture the circle that would be formed by drawing a line connecting the north pole, the zenith (the point in the sky directly overhead), the south pole, and the nadir (the point directly opposite the zenith).
meridian
[

mə′rid·ē·ən

]

(astronomy)

A great circle passing through the poles of the axis of rotation of a planet or satellite.

(geodesy)

A north-south reference line, particularly a great circle through the geographical poles of the earth.
meridian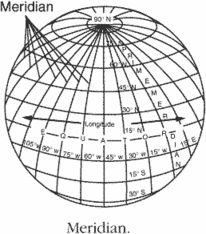 A semi—great circle joining the geographical poles. All meridians indicate a north-south direction. Every great circle joining the poles forms a meridian and its antimeridian.
meridian
1.
a. one of the imaginary lines joining the north and south poles at right angles to the equator, designated by degrees of longitude from 0? at Greenwich to 180?
b. the great circle running through both poles
2.
Astronomy
a. the great circle on the celestial sphere passing through the north and south celestial poles and the zenith and nadir of the observer
b. (as modifier): a meridian instrument
3. Maths a section of a surface of revolution, such as a paraboloid, that contains the axis of revolution
4. (in acupuncture, etc.) any of the channels through which vital energy is believed to circulate round the body
5. Obsolete noon
6. along or relating to a meridian