micron
Also found in:
Dictionary
,
Thesaurus
,
Medical
,
Financial
,
Acronyms
,
Wikipedia
.
micron:
see micrometermicrometer
. 1 Instrument used for measuring extremely small distances. Typical examples are devices used in astronomical telescopes to measure the apparent diameter of celestial objects and similar devices used in microscopes.
.....

Click the link for more information.

.
Micron
a fractional unit of length equal to 10-6 m or 10-3 mm. Its symbol is μ. The name "micron" was abolished by a resolution of the Thirteenth General Conference on Weights and Measures (1967); according to GOST (All-Union State Standard) 7663–55 and the rule for formation of the names of fractional units, it is to be called the micrometer (Russian mikrometr).
micron
[

′mī'krän

]

(mechanics)

A unit of pressure equal to the pressure exerted by a column of mercury 1 micrometer high, having a density of 13.5951 grams per cubic centimeter, under the standard acceleration of gravity; equal to 0.133322387415 pascal; it differs from the millitorr by less than one part in seven million. Also known as micrometer of mercury.
micron
A unit of length equal to a thousandth part of a millimeter or a millionth of a meter.
micron
i. A unit used to measure the effectiveness of filters. One micron is a micrometer, or one millionth of a meter (10−6).
ii. A unit of linear measurement equal to one millionth (10−6) of a meter. Also called a micrometer.
iii. The amount of pressure exerted by a column of mercury one-micrometer (one millionth of a meter) high under standard conditions. A micron of pressure is equal to .001 mm of mercury.
micron
a unit of length equal to 10--6 metre. It is being replaced by the micrometre, the equivalent SI unit
micron
One micrometer, which is one millionth of a meter or approximately 1/25,000 of an inch. The tiny elements that make up a transistor on a chip are measured in micrometers and nanometers. See process technology.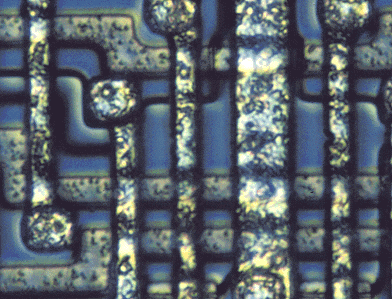 Magnified 800 Times
This is an 800x magnification of a few bits of RAM from an early Motorola microcontroller. Although the actual size of what you see in this picture would fit on a pinhead, the elements in the devices on this chip are several microns wide, which is quite large by today's standards.