microwave
(redirected from microwaving)
Also found in:
Dictionary
,
Thesaurus
,
Medical
.
microwave,
electromagnetic wave having a frequency range from 1,000 megahertz (MHz) to 300,000 MHz, corresponding to a wavelength range from 300 mm (about 12 in.) to 1 mm (about 0.04 in.). Like light waves, microwaves travel essentially in straight lines. They are used in radar, in communications links spanning moderate distances, and in other applications, such as microwave ovensmicrowave oven,
device that uses microwaves to rapidly cook food. The microwaves cause water molecules in the food to vibrate, producing heat, which is distributed through the food by induction. A special electron tube called a magnetron produces the microwaves.
.....

Click the link for more information.

. The equipment used to generate, process, and transmit microwaves is in many respects different from that used with lower frequency radio waves. See waveguidewaveguide,
device that controls the propagation of an electromagnetic wave so that the wave is forced to follow a path defined by the physical structure of the guide. Waveguides, which are useful chiefly at microwave frequencies in such applications as connecting the output
.....

Click the link for more information.

; magnetronmagnetron
, vacuum tube oscillator (see electron tube) that generates high-power electromagnetic signals in the microwave frequency range. Its operation is based on the combined action of a magnetic field applied externally and the electric field between its electrodes.
.....

Click the link for more information.

.

The Columbia Electronic Encyclopedia™ Copyright © 2013, Columbia University Press. Licensed from Columbia University Press. All rights reserved.

www.cc.columbia.edu/cu/cup/
microwave
[

′mī·krə'wāv

]

(electromagnetism)

An electromagnetic wave which has a wavelength between about 0.3 and 30 centimeters, corresponding to frequencies of 1-100 gigahertz; however, there are no sharp boundaries distinguishing microwaves from infrared and radio waves.

McGraw-Hill Dictionary of Scientific & Technical Terms, 6E, Copyright © 2003 by The McGraw-Hill Companies, Inc.
microwave
a. electromagnetic radiation in the wavelength range 0.3 to 0.001 metres: used in radar, cooking, etc.
b. (as modifier): microwave generator
Collins Discovery Encyclopedia, 1st edition © HarperCollins Publishers 2005
microwave
Meaning "small wave," a microwave is a radio signal in the frequency range from 300 MHz to 300 GHz or from 1 to 300 GHz, depending on the rating system. Except for AM and FM radio, shortwave radio and over-the-air TV, almost all other communications systems transmit microwaves, including satellites, cellular systems, wireless LANs and line-of-sight between buildings and across vast distances.

Confusing Terminology
The microwave bands include the millimeter wave bands, which range from 30 to 300 GHz. See spectrum and millimeter wave.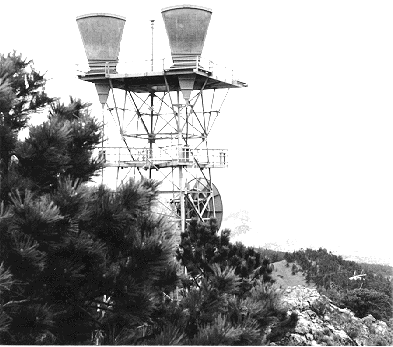 Early Microwave Tower
Line-of-sight microwaves were first used to transmit across long distances where the terrain was too difficult to lay cable. This tower was installed in 1969 in Boulder Junction, Colorado. (Image courtesy of AT&T.)
Copyright © 1981-2019 by The Computer Language Company Inc. All Rights reserved. THIS DEFINITION IS FOR PERSONAL USE ONLY. All other reproduction is strictly prohibited without permission from the publisher.