minaret
Also found in:
Dictionary
,
Thesaurus
,
Wikipedia
.
minaret
(mĭnərĕt`)

, tower, used in Islamic architecture, from which the faithful are called to prayer by a muezzin. Most mosquesmosque
, building for worship used by members of the Islamic faith. Muhammad's house in Medina (A.D. 622), with its surrounding courtyard and hall with columns, became the prototype for the mosque where the faithful gathered for prayer.
.....

Click the link for more information.

have one or more small towers, which are usually placed at the corners. The earliest structures specifically built as minarets were the four low square towers at the four corners of the Mosque of Amr in Egypt (A.D. 673). The square form remained in use in Syria until the 13th cent. and in the Maghreb until modern times; the minaret of Giralda in Seville (A.D. 1195) is famous. The free-standing conical minaret surrounded by a spiral staircase, probably deriving from the ancient Babylonian ziggurat, was built at Samarra, Iraq, and in Cairo in the second half of the 9th cent. The most typical Egyptian development is seen in the octagonal minarets of the two 15th-century Cairo mosques of El-Azhar and Kait-bey; both have two balconies, the upper smaller than the lower, over projecting friezes of stalactite vaulting and are surmounted by an elongated and bulbous finial. The most distinctly Persian development (see Persian art and architecturePersian art and architecture,
works of art and structures produced in the region of Asia traditionally known as Persia and now called Iran. Bounded by fierce mountains and deserts, the high plateau of Iran has seen the flow of many migrations and the development of many
.....

Click the link for more information.

) are the two pairs of slim, towering minarets flanking the huge entrance arches of the Isfahan Masjid-i Shah (c.1612); the conical shafts terminate in covered balconies and are entirely encased in brilliant blue tiles. See Islamic art and architectureIslamic art and architecture,
works of art and architecture created in countries where Islam has been dominant and embodying Muslim precepts in its themes. Background

In the century after the death (A.D.
.....

Click the link for more information.

.
Minaret
a tower from which Muslims are summoned to prayer. Minarets are attached or built next to a mosque. Early minarets often had a winding staircase or ramp around their outer wall; later minarets have an interior staircase. The minarets of Egypt, Iraq, Iran, and Central and Middle Asian countries are tall, tapering toward the top, and round or polygonal in cross section. They are embellished with patterned brickwork, carvings, glazed tiles, and tiers of open-worked balconies. Minarets with a square ground plan are characteristic of Syria and the North African countries. Turkish minarets have a narrow polygonal shaft ending in a pointed spire.
minaret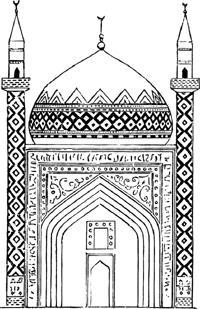 A tall tower in, or contiguous to, a mosque with stairs leading up to one or more balconies from which the faithful are called to prayer.
minaret
1. a slender tower of a mosque having one or more balconies from which the muezzin calls the faithful to prayer
2. any structure resembling this