minimum sector altitude
Also found in:
Acronyms
.
minimum sector altitude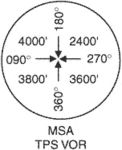 The lowest altitude which may be used which will provide a minimum clearance of 300 m (1000 ft) above all objects located in an area contained within a sector of 46 km (25 NM) radius centered on radio aid to navigation. (ICAO). This altitude may be used under emergency conditions. Sectors depicted on approach charts must be at least 90° in scope. These altitudes do not necessarily ensure acceptable navigational signal coverage.