Miserere
Also found in:
Dictionary
,
Thesaurus
,
Wikipedia
.
Miserere
(mĭzərâr`ē)

, in the Bible, the 51st (or 50th) Psalm, beginning "Miserere mei, Deus (Have mercy upon me, O God)." It is one of the penitential PsalmsPsalms
or Psalter
, book of the Bible, a collection of 150 hymnic pieces. Since the last centuries B.C., this book has been the chief hymnal of Jews, and subsequently, of Christians.
.....

Click the link for more information.

. Noteworthy musical settings are those of Josquin des Prés and Palestrina.
miserere, subsellium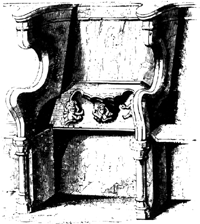 A ledge on the bottom of a hinged seat in a church; when the seat is raised, the ledge provides some support for a worshiper or choir singer who, in standing, leans against it.