module
Also found in:
Dictionary
,
Thesaurus
,
Medical
,
Acronyms
,
Wikipedia
.
module
module.
1
Term derived from the Latin
modulus,
a unit of measure in classical architecture equal to half the diameter of a column at its base. This unit was used in proportioning the classical
orders of architecture
.
2
The modern module is an interchangeable building unit used in construction; these units are mass-produced and therefore easily replaced and economical.
The Columbia Electronic Encyclopedia™ Copyright © 2022, Columbia University Press. Licensed from Columbia University Press. All rights reserved.
Module
A simple ratio by which all parts of a building are related as part of an ordered system.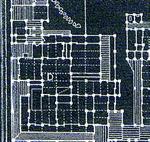 Illustrated Dictionary of Architecture Copyright © 2012, 2002, 1998 by The McGraw-Hill Companies, Inc. All rights reserved
The following article is from The Great Soviet Encyclopedia (1979). It might be outdated or ideologically biased.
Module
in architecture, an arbitrary unit of measurement adopted to coordinate the dimensions of parts of a building or complex. In the architecture of different peoples different quantities have been used as the module, depending on the type of construction and building design. The module of a structure may be one of its basic measurements (the diameter of the dome or the length of the bay in the vaulted medieval structures of Europe and Central Asia), the size of an individual structural element (the diameter of a column and the width of a triglyph in ancient architecture employing the classical orders), or the dimensions of a building material (the length of a brick or log). Measures of length (such as the foot, sazhen' (2.134 m), and meter) are also used directly as modules, forming a linear module.
Arising out of technical necessity, the module became a device in architectural composition to place in harmony the dimensions of a structure and its parts (for example, the golden section in ancient architecture and the modulor of Le Corbusier). The use of modules, however, never resulted in the mechanical computation of all quantities: in the search for expressive correlations, architects made commensurate corrections that took into account optical illusions. In the architecture of the second half of the 20th century, with the development of prefabricated industrial construction, linear modules became particularly important as a means of organizing the planning and design of buildings and of unifying and standardizing them.
The primary module of 10 cm, larger derivative modules (30, 60, 120, 150, 300, and 600 cm) and fractional modules, together with the rules of application, constitute a module system. They have been established by Soviet, foreign, and international norms and standards.
REFERENCES
Khazanov, D. B. "Modul' v arkhitekture." In the collection Voprosy teorii arkhitekturnoi kompozitsii, [issue] 2. Moscow, 1958.
Arkhitektura zhilogo kompleksa. Moscow, 1969.
---
Module
(in electronics), a functionally complete subassembly of electronic apparatus that is designed as an independent item. A distinction is made among planar, three-dimensional, and planar-three-dimensional types according to design, and between transistor and tube types according to the type of electronic devices.
Modules are most frequently assembled on printed-circuit boards. The technology of production of modules permits a high degree of automation, which ensures highly reliable operation. Modules may be adjusted and checked separately, thus making possible repair by replacement, without additional adjustment. The use of modules (the functional-subassembly method of design) shortens the development time, reduces design and production costs, and simplifies maintenance and modernization.
REFERENCE
Gusev, V. P. Tekhnologiia radioapparatostroeniia. Moscow, 1972.
The Great Soviet Encyclopedia, 3rd Edition (1970-1979). © 2010 The Gale Group, Inc. All rights reserved.
module
[

′mäj·ül

]

(aerospace engineering)

A self-contained unit which serves as a building block for the overall structure in space technology; usually designated by its primary function, such as command module or lunar landing module.

(computer science)

A distinct and identifiable unit of computer program for such purposes as compiling, loading, and linkage editing.

One memory bank and associated electronics in a computer.

(electronics)

A packaged assembly of wired components, built in a standardized size and having standardized plug-in or solderable terminations.

(engineering)

A unit of size used as a basic component for standardizing the design and construction of buildings, building parts, and furniture.

(mathematics)

A vector space in which the scalars are a ring rather than a field.

McGraw-Hill Dictionary of Scientific & Technical Terms, 6E, Copyright © 2003 by The McGraw-Hill Companies, Inc.
module
1. A distinct component forming part of an ordered system.
2. A repetitive dimensional or functional unit used in planning, recording, or constructing buildings or other structures.
3. A standard, usually of length, by which the proportions of a building are determined.
4. A unit of a building structure which is based on a standard pattern of standard dimensions.
McGraw-Hill Dictionary of Architecture and Construction. Copyright © 2003 by McGraw-Hill Companies, Inc.
module
1. a self-contained unit or item, such as an assembly of electronic components and associated wiring or a segment of computer software, which itself performs a defined task and can be linked with other such units to form a larger system
2. a standard unit of measure, esp one used to coordinate the dimensions of buildings and components; in classical architecture, half the diameter of a column at the base of the shaft
3. Education a short course of study, esp of a vocational or technical subject, that together with other such completed courses can count towards a particular qualification
Collins Discovery Encyclopedia, 1st edition © HarperCollins Publishers 2005
module
(programming)

An independent piece of

software

which forms part of one or more larger programs. Different languages have different concepts of a module but there are several common ideas.

Modules are usually compiled seperately (in compiled languages) and provide an

abstraction

or information hiding mechanism so that a module's implementation can be changed without requiring any change to other modules. In this respect they are similar to objects in an

object-oriented language

, though a module may contain many procedures and/or functions which would correspond to many objects.

A module often has its own name space for identifiers so the same identifier may be used to mean different things in different modules.
module
(hardware)

An independent assembly of electronic components with some distinct function, e.g. a RAM module consisting of several RAM chips mounted on a small circuit board.

This article is provided by FOLDOC - Free Online Dictionary of Computing (foldoc.org)
module
A self-contained hardware or software component that interacts with a larger system. A software module (program module) comes in the form of a file and typically handles a specific task within a larger software system. Hardware modules are units that often plug into a main system. See memory module, ROM card, MCM and modular programming.

Copyright © 1981-2019 by The Computer Language Company Inc. All Rights reserved. THIS DEFINITION IS FOR PERSONAL USE ONLY. All other reproduction is strictly prohibited without permission from the publisher.