moire
Also found in:
Dictionary
,
Thesaurus
,
Wikipedia
.
moire
a fabric, usually silk, having a watered effect
Moiré
(1) A dense silk or semisilk patterned fabric of various hues; it is iridescent in the light. Moiré is used to make dresses, trimmings, and ribbons.
(2) Paper with a pattern stamped on the surface.
(3) Alternating dark and light stripes in an impression that result from the incorrect preparation of a halftone plate.
moiré
[

mȯ′rā

]

(communications)

In television, the spurious pattern in the reproduced picture resulting from interference beats between two sets of periodic structures in the image.

(graphic arts)

Undesirable patterns that occur when a halftone is made from a previously printed halftone or steel engraving; they are caused by the conflict between the dot arrangement produced by the halftone screen and the dots or lines of the original halftone or engraving; careful rotation of the halftone screen by the photographer or engraver may minimize moiré.

(textiles)

A fabric finish in which the warp has yarn of harder twist than the filling, with a surface pattern resembling water ripples that is produced by engraved rollers, heat, pressure, steam, and chemicals.
moire
Pronounced "mor-ray" and spelled "moiré." In computer graphics, a visible distortion. It results from a variety of conditions; for example, when scanning halftones at a resolution not consistent with the eventual printed resolution or when superimposing curved patterns on one another. Internal monitor misalignment can also be a cause. The term comes from the French "moirer" (to water) and is used to express a rippled, water-like look, which is often a desired artistic effect.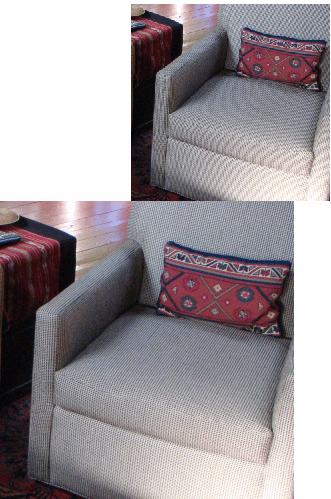 A Common Moiré Pattern
Reducing images with checkered or herringbone patterns often creates the Moiré look as in the above example. At the top, the pillow reduces correctly but the checkered fabric in the chair creates a swirling Moiré effect.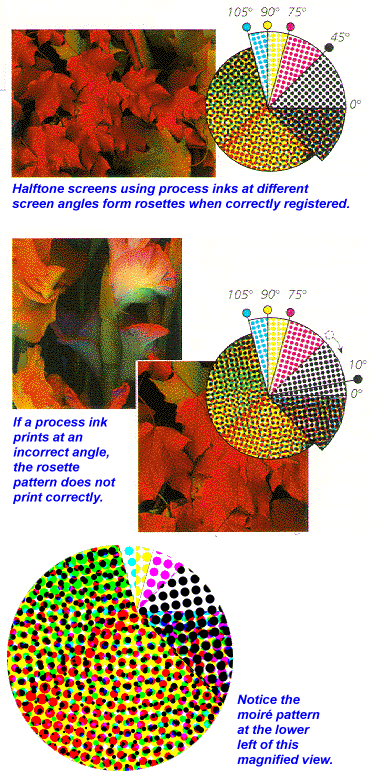 Halftone Examples
When printing halftones, rosettes are formed if the screens are registered properly. The magnified view at the bottom shows the misaligned rosettes, which actually create the Moiré pattern. (Images courtesy of Adobe Systems, Inc.)