moped
Also found in:
Dictionary
,
Thesaurus
,
Medical
,
Acronyms
,
Idioms
,
Wikipedia
.
moped:
see motorcyclemotorcycle,
motor vehicle whose design is based on the bicycle. The German inventor Gottlieb Daimler is generally credited with building the first practical motorcycle in 1885. The motorcycle did not become dependable and popular, however, until after 1900.
.....

Click the link for more information.

.

The Columbia Electronic Encyclopedia™ Copyright © 2013, Columbia University Press. Licensed from Columbia University Press. All rights reserved.

www.cc.columbia.edu/cu/cup/
The following article is from The Great Soviet Encyclopedia (1979). It might be outdated or ideologically biased.
Moped
a name designating a two-wheeled vehicle with an internal-combustion engine with a piston displacement of up to 49.8 cm3 and pedal and chain drive to the rear wheel.
In the USSR, light mopeds are equipped with an engine having a piston displacement of 45 cm3 and a power of 0.88–1.1 kilowatt (kW), or 1.2–1.5 hp; they have no transmission and are capable of speeds of up to 40 km/hr. Standard mopeds are equipped with a one-cylinder two-cycle engine with a piston displacement of 49.8 cm3 and a power of 1.62–1.84 kW (2.2–2.5 hp), with a two-speed transmission. They are capable of speeds of up to 50 km/hr. Shifting is accomplished by operating a handle on the left handlebar. Pedals are used to start the engine, for braking, and as a support for the feet while riding. Mopeds are also frequently equipped with a stepless, automatic V-belt drive and an electronic ignition system. Mopeds with a motor driven by a storage battery have appeared in some foreign countries.
Mass production of mopeds began in the late 1940's and is increasing continuously. In the USSR mopeds are manufactured in Riga and L'vov (see Table 1). Production in 1972 was 340,000 units.
Table 1. Technical characteristics of Soviet mopeds
Riga-7
Riga- 12 and Verkhovina-4
Type of engine .....
D-6
Sh-57
Maximum engine power,
kW (hp) .....
0.88 (1 .2)
@ 4,500 rpm
1.62 (2.2)
@ 5,300 rpm
Maximum speed (km/hr) .....
40
50
Weight (kg) .....
36
52
REFERENCE
Grishin, E. M., and Z. la. lanson. Mopedy: Ustroistvo i ekspluatatsiia. Moscow, 1966.

S. IU. IVANITSKII and B. V. SINEL'NIKOV
The Great Soviet Encyclopedia, 3rd Edition (1970-1979). © 2010 The Gale Group, Inc. All rights reserved.
moped
Brit a light motorcycle, not over 50cc
Collins Discovery Encyclopedia, 1st edition © HarperCollins Publishers 2005
e-bike
(Electric-BIKE) A bicycle that is augmented with an electric motor. E-bikes are powered by a rechargeable battery, but the rider still uses the pedals. However, when going up hills or wanting a boost, the electric motor makes the ride easier.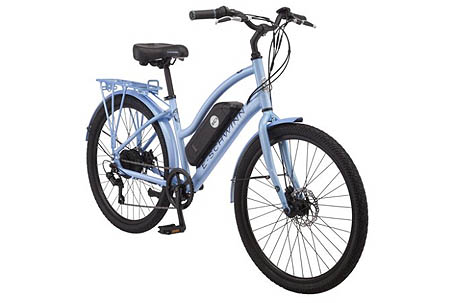 An Electric Bike
This unisex 26" bicycle from Schwinn has a 250-watt motor, and the thumb-driven controller on the handle bars adjusts the assistance level. (Image courtesy of Schwinn Bicycles, www.schwinn.com)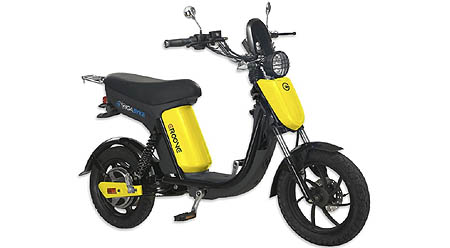 An Electric Moped
Mopeds have traditionally been powered by internal combustion engines; however, all-electric mopeds are also available. This GigaByke Groove has pedals in case the battery is drained. (Image courtesy of GIGABYKE, www.gigabyke.com)
Copyright © 1981-2019 by The Computer Language Company Inc. All Rights reserved. THIS DEFINITION IS FOR PERSONAL USE ONLY. All other reproduction is strictly prohibited without permission from the publisher.