moving map display
Also found in:
Dictionary
,
Wikipedia
.
moving map display
[

′müv·iŋ ′map di'splā

]

(navigation)

An air navigation device which displays the aircraft's navigational position on moving film of an aeronautical chart; the positional information may be obtained from various systems such as Tacan, Doppler, inertial, and so forth; such display systems may indicate course and distance to destination, track over ground, and so on.
moving map display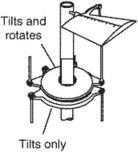 A display in which a symbol, representing the aircraft, remains stationary while the map or chart image moves beneath the symbol so that the display simulates the horizontal movement of the aircraft in which it is installed. In some cases, the map or chart remains stationary while the symbol moves across the screen.