mr
Also found in:
Dictionary
,
Thesaurus
,
Medical
,
Legal
,
Financial
,
Acronyms
,
Idioms
,
Wikipedia
.
Mr
a title placed before the surname of a surgeon
Collins Discovery Encyclopedia, 1st edition © HarperCollins Publishers 2005
mr
(nucleonics)
McGraw-Hill Dictionary of Scientific & Technical Terms, 6E, Copyright © 2003 by The McGraw-Hill Companies, Inc.
mill run
Products from a mill which have not been graded or inspected.
McGraw-Hill Dictionary of Architecture and Construction. Copyright © 2003 by McGraw-Hill Companies, Inc.
mr
(networking)

This article is provided by FOLDOC - Free Online Dictionary of Computing (foldoc.org)
magnetoresistance
A change in electrical resistance in metal or a semiconductor when it is subjected to a magnetic field. The property of magnetoresistance is used in reading the bits on magnetic tape and disk. Although used in earlier analog tape recorders, in 1991, IBM was the first to use a magnetoresistive (MR) read head in a computer disk drive.

Magnetoresistive (MR)
As storage capacity increases, the bit gets smaller and its magnetic field becomes weaker. MR heads are more sensitive to weaker fields than earlier inductive read coils, in which the bit on the medium induced the current across a gap. The MR mechanism is an active element with current flowing through it. The magnetic orientation of the bit increases the resistance in a thin-film nickel-iron layer, and the difference in current is detected by the read electronics. MR heads use the traditional inductive coil for writing.

Giant MR
In 1998, IBM introduced drives with giant MR (GMR) heads, which are sensitive to even weaker fields. GMR heads use additional thin film layers in the sensing element to boost the change in resistance, and "giant" refers to this larger change. Almost all modern drives use GMR read heads.

Extraordinary MR
Discovered in 1995 at the NEC Research Institute in Princeton, NJ, extraordinary MR (EMR) provides an even greater change in resistance. Quite unique in that the material is non-magnetic, EMR is expected to provide bit densities of a terabit per square inch some day. See superparamagnetic limit.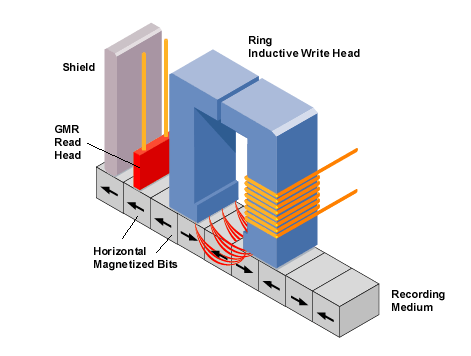 GMR Heads for Reading
Most modern disk drives use GMR (giant MR) heads for reading, but use inductive coils for writing. (Illustration assistance courtesy of Hitachi Global Storage Technologies.)
---
mixed reality
A type of augmented reality that combines fantasy with the real world. For example, whereas augmented reality (AR) goggles might display email or text messages, mixed reality can simulate total fiction such as a 3D game. In addition, the simulated objects can interact with the environment, such as a ball bouncing off the wall or new furniture rearranged in the room.

Unlike totally immersive virtual reality (VR) goggles, which require wearers to remain reasonably stationary, mixed reality and augmented reality users navigate their physical environment just like someone wearing eye glasses. The terms mixed and augmented reality are sometimes used synonymously. See Windows Mixed Reality, AR headset, augmented reality and virtual reality.

Copyright © 1981-2019 by The Computer Language Company Inc. All Rights reserved. THIS DEFINITION IS FOR PERSONAL USE ONLY. All other reproduction is strictly prohibited without permission from the publisher.