night effect
Also found in:
Dictionary
.
Related to night effect:
Automatic direction finder
night effect
[

′nīt i'fekt

]

(navigation)
night effect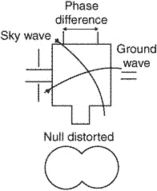 The effect of changed polarization on a direction finder occurring at night. The effective range of a long-range beacon that has a daytime range of 200 NM may be reduced to about 70 NM by night. This reduction in range occurs because of the presence of sky wave propagation in an LF/MF (low- and medium-frequency) band. The sky wave is not present during the daytime, but at night the sky waves affect the ADF (automatic direction finder) accuracy. The change in polarization in radio waves refracted by ionospheric layers results in a signal voltage being induced in the horizontal positions of the loop antenna, causing erroneous bearing directions. The effect is most common at night.