numerical map
digital map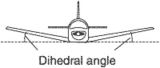 i
. A map expressed and stored in digital form.
ii
. A representation, in digital form, of discrete points on the earth's surface. Also called a
numerical map
.
dihedrali
. The positive acute angle between the lateral axis of an airplane and a line through the center of a wing or horizontal stabilizer. A dihedral is normally associated with a low-wing aircraft, although some dihedral angles may be incorporated into high-wing aircraft as well. A dihedral increases the lateral stability of an airplane.
ii
. The angular difference between the chords of the wing and the tailplane. This is normally referred to as
longitudinal dihedral
.
An Illustrated Dictionary of Aviation Copyright © 2005 by The McGraw-Hill Companies, Inc. All rights reserved