Odeum
(redirected from odeums)
Also found in:
Dictionary
.
The following article is from The Great Soviet Encyclopedia (1979). It might be outdated or ideologically biased.
Odeum
a building intended primarily for performances by singers.
The first odeum, designed by Ictinus, was built by Pericles at the Acropolis in Athens in 440 B.C. Usually round, odeums were frequently enclosed within a square, roofed building. In Rome an open type of odeum was common.
REFERENCE
Broneer, O. The Odeum. [Cambridge, Mass.] 1932.
The Great Soviet Encyclopedia, 3rd Edition (1970-1979). © 2010 The Gale Group, Inc. All rights reserved.
odeum, odeon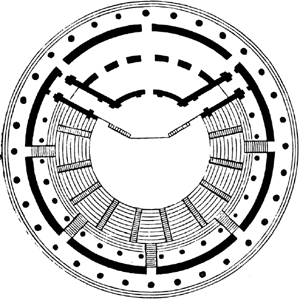 A small ancient Greek or Roman theater, usually roofed, for musical performances.
McGraw-Hill Dictionary of Architecture and Construction. Copyright © 2003 by McGraw-Hill Companies, Inc.