oil filter
Also found in:
Dictionary
,
Thesaurus
,
Acronyms
,
Wikipedia
.
oil filter
[

′ȯil 'fil·tər

]

(engineering)

Cartridge-type filter used in automotive oil-lubrication systems to remove metal particles and products of heat decomposition from the circulating oil.

McGraw-Hill Dictionary of Scientific & Technical Terms, 6E, Copyright © 2003 by The McGraw-Hill Companies, Inc.
The following article is from The Great Soviet Encyclopedia (1979). It might be outdated or ideologically biased.
Oil Filter
a device for removing mechanical particles, resins, and other impurities from oil. Oil filters are installed in the lubrication systems of internal-combustion engines and metalcutting machine tools.
There are several types of oil filters, such as edge-plate filters with a replaceable paper cartridge, and centrifugal filters. Centrifugal oil filters are most widely used in engine lubrication systems. In this type of filter, the contaminated oil is delivered under pressure to the rotor cavity of the filter, fed through the filter strainer to the jets, and discharged from the jets with great velocity. The discharging flow of oil creates a reactive thrust, which forces the rotor to turn. The rotation frequency of the rotor reaches 5,000-6,000 rpm under an oil pressure of 0.25-0.30 meganewtons per sq m (2.5-3.0 kilograms-force per sq cm). The solid particles in the oil are thrown to the periphery by centrifugal force and settle on the walls of the rotor. The clean oil flows to an oil header, such as the crankcase of an engine.
The Great Soviet Encyclopedia, 3rd Edition (1970-1979). © 2010 The Gale Group, Inc. All rights reserved.
oil filter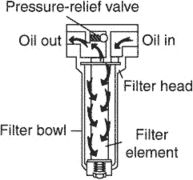 A device in the lubrication system for removing contaminants from engine oil.
An Illustrated Dictionary of Aviation Copyright © 2005 by The McGraw-Hill Companies, Inc. All rights reserved