ornament
(redirected from ornamented)
Also found in:
Dictionary
,
Thesaurus
,
Legal
,
Idioms
.
ornament,
in architecture, decorative detail enhancing structures. Structural ornament, an integral part of the framework, includes the shaping and placement of the buttressbuttress,
mass of masonry built against a wall to strengthen it. It is especially necessary when a vault or an arch places a heavy load or thrust on one part of a wall. In the case of a wall carrying the uniform load of a floor or roof, it is more economical to buttress it at
.....

Click the link for more information.

, cornicecornice
, molded or decorated projection that forms the crowning feature at the top of a building wall or other architectural element; specifically, the uppermost of the three principal members of the classic entablature, hence by extension any similar crowning and projecting
.....

Click the link for more information.

, moldingmolding,
in architecture, furniture, and decorative objects, a surface or group of surfaces of projecting or receding contours. A molding may serve as a defining element, terminating a unit or an entire composition (e.g.
.....

Click the link for more information.

, ceiling, and roofroof,
overhead covering of a building with its framework support. Various methods of construction, such as are suited to different climates, have diversified exterior and interior architectural effects.
.....

Click the link for more information.

and the capitalcapital,
in architecture, the crowning member of a column, pilaster, or pier. It acts as the bearing member beneath the lintel or arch supported by the shaft and has a spreading contour appropriate to its function.
.....

Click the link for more information.

and other elements of the column, as well as the use of building materials of contrasting color or texture. Applied ornament embraces the adornment of structural members with statuary, carving, molding, paint, inlay, mosaic, and facings. The design of ornament has followed the artistic development of various eras, reaching the height of exuberance during the baroque. See decorative artsdecorative arts,
term referring to a variety of applied visual arts, both two- and three-dimensional, including textiles, metalwork, ceramics, books, and woodwork, as well as to certain aspects of architecture (see ornament), public buildings, and private houses (see interior
.....

Click the link for more information.

and articles on the architecture of individual countries and periods, e.g., Egyptian architectureEgyptian architecture,
the architecture of the ancient Egyptians, formulated prior to 3000 B.C. and lasting through the Ptolemaic period (323–30 B.C.). Characteristics of Egyptian Architecture
.....

Click the link for more information.

and Gothic architecture and artGothic architecture and art,
structures (largely cathedrals and churches) and works of art first created in France in the 12th cent. that spread throughout Western Europe through the 15th cent., and in some locations into the 16th cent.
.....

Click the link for more information.

.
Bibliography
See O. Jones The Grammar of Ornament (1869, repr. 1972); A. D. F. Hamlin, A History of Ornament (2 vol., 1916–23); J. Evans, Style in Ornament (1950).
---
ornament,
in music, notes added to a melodic line for the purpose of embellishment or decoration, often called graces. Ornamentation was practiced as early as the Middle Ages by the singers of plainsong, and the practice seems to have reached its height in the baroque era. Treatises were written and attempts made to standardize practices. Symbols were adopted as a kind of shorthand for the notation of some ornaments, others were written out in complete notation, and still others were left to the discretion of the solo performer—often the composer himself. Since the baroque era, composers have attempted to indicate their intentions regarding ornaments in precise notation. In the 20th cent. the tendency was toward a minimum of ornamentation; however, the same period saw extensive research to make possible the performance of baroque music in the manner of the baroque era.

The Columbia Electronic Encyclopedia™ Copyright © 2013, Columbia University Press. Licensed from Columbia University Press. All rights reserved.

www.cc.columbia.edu/cu/cup/
Ornament
Anything that embellishes, decorates, or adorns a structure, whether used intentionally and integrated into the structure or applied separately to enhance the building's form and appearance.
Ornament: Animal forms
The use of animals in a natural or idealized form for ornamental details, such as sculptured or relief figures on friezes, capitals or columns, and bas-relief panels.
aegricranes
Sculptured representations of the heads and skulls of goats and rams, once used as decoration on altars and friezes.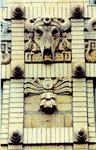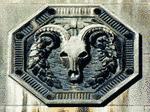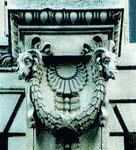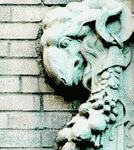 bestiary
A collection of medieval allegorical fables about animals, each with an interpretation of its significance to good or evil; in medieval churches, a group of highly imaginative and symbolic carved creatures.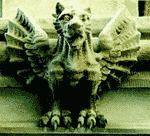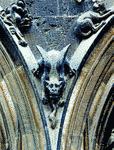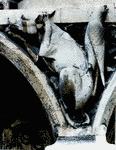 birds
Any member of the class Aves, which includes warmblooded, feathered vertebrates with forelimbs modified to form wings.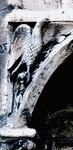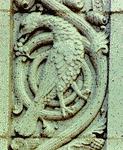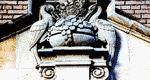 bovine
Any of the Bovinae mammal species, such as the ox and cow.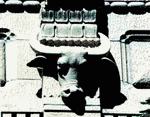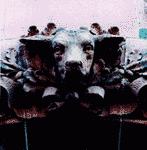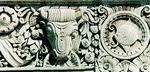 bucranium
A sculptural ornament representing the head or skull of an ox, often garlanded, and most frequently used on Roman Ionic friezes.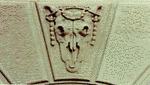 canine
Any member of the dog family, including wolves and foxes.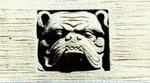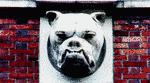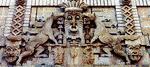 centaur
In classical mythology, a monster, half man and half horse; a human torso on the body of a horse.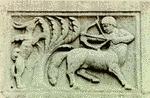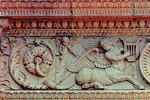 chimera
A fantastic assemblage of animal forms so combined as to produce a single but unnatural design; a creation of the imagination.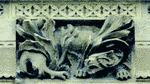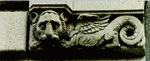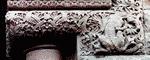 eagle
Any of various large birds of prey, characterized by a powerful hooked bill, and long broad wings; used as emblems, insignias, seals, and ornamental sculpture.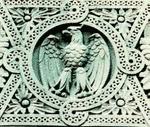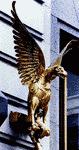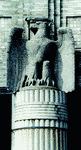 feline
Belonging to the cat family; includes lions, tigers, and jaguars.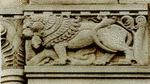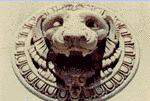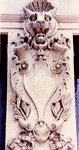 griffin
A mythological beast with a lion's body and an eagle's head and wings, used decoratively.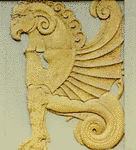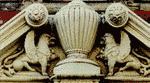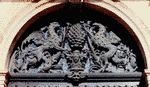 horse
A large hoofed mammal, having a short-haired coat, a long mane, and a long tail, and domesticated since ancient times for riding and to pull vehicles or carry loads.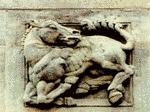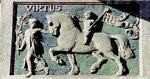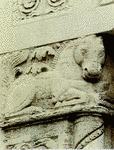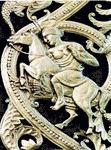 owl
Any of various nocturnal birds of prey, with hooked and feathered talons, large heads with short hooked beaks, and eyes set in a frontal facial plane.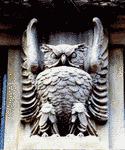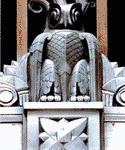 sphinx
An Egyptian figure having the body of a lion and a male human head; the Greek version featured a female monster represented with the body of a lion, winged, and the head and breasts of a woman.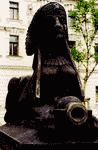 wyvern
A two-legged dragon having wings and a barbed and knotted tail, used often in heraldry.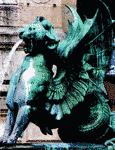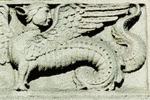 Ornament: Elements
Ornamental features that are integral with the structure and materials adorning buildings.
acorn
A small ornament in the shape of a nut of the oak tree; used in American Colonial architecture as a pendant, finial, carved on a panel, or as an element in the center of a broken pediment.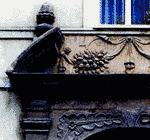 banderole
A decorative representation of a ribbon or long scroll, often bearing an emblem or inscription.

bouquet
The decorative ornament at the top of a finial or other projection in a floral or foliated form; similar to the anthemion.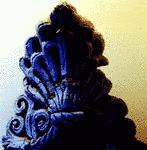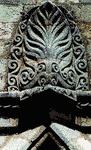 bow knot
A decorative element in the stylized shape of a ribbon tied in a bow; often in the form of repetitive open loops which contain rosettes.
corner drop
A hand-carved or turned wood ornament that is attached to the bottom of an overhanging second-story post; often found in early American Colonial houses.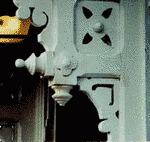 cornucopia
A goat's horn overflowing with fruits, flowers and corn, signifying prosperity; a horn of plenty; any cone-shaped receptacle or ornament.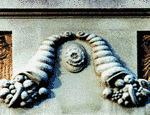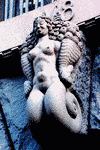 crocket
In Gothic architecture and derivatives, an upward-oriented ornament, often vegetal in form, regularly spaced along sloping or vertical edges of emphasized features such as spires, pinnacles, and gables.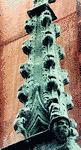 dog tooth
One of a series of projecting pyramidal ornaments resembling a row of teeth; used inGothic Revival and Early English architecture.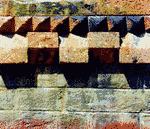 fleur-de-lis
A stylized three-petal flower representing the French royal lily, tied by an encircling band and used as an ornamental device in late Gothic architecture and in later derivatives.
fret
An ornament usually in bands, but also covering broad surfaces, consisting of interlocking geometric motifs.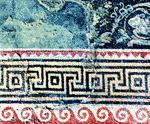 grapevine
A running ornament or carved panel which consisted of grapevines with bunches of grapes and grape leaves; popular in communities along the Rhine and elsewhere in Germany.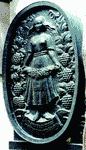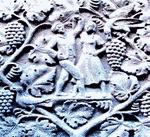 hip knob ornament
A finial or other similar ornament placed on the top of the hip of a roof or at the apex of a gable.
hollyhock
A tall plant, widely cultivated for its showy spike of large variously colored flowers; used as an ornamental motif by Frank Lloyd Wright on the Barnsdall residence in Los Angeles, CA.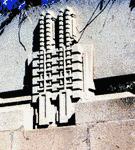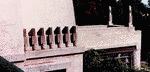 honeysuckle ornament
A common name for the anthemion, common in Greek decorative sculpture.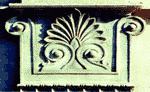 knob
A protuberance, whether useful or ornamental, that forms the termination of an isolated member; also a handle that is more or less spherical, used for operating the mechanism for opening a door.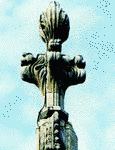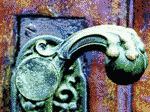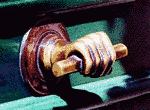 knot
In medieval architecture, a bunch of leaves, flowers, or a similar ornament, such as bosses at the intersection of ribs, and bunches of foliage in capitals; an ornamental design resembling cords that are interlaced.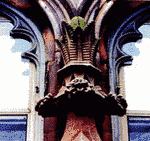 knotwork
A carved ornamental arrangement of cord-like figures jointed together to form a type of fringe; used to decorate voussoirs and moldings.
linen scroll
A form of ornament for filling panels.
olive leaf cluster
Bunches of olive leaves sculpted to form the ornamentation of the Composite order.
palmette
A decorative motif based on the fan-shaped leaf of a palm tree.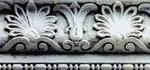 pine cone
Oval drop that occurs in the open corner of the dentil course in the Composite order.
pineapple
A decorative carved ornament representing a pineapple, used as a terminal or finial for a hipped roof or as the central element of an ogee pediment.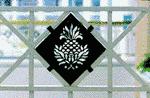 rose
A stylized carving of a wild rose; used in Gothic style ornamentation and on Corinthian capitals.
scroll
Ornamentation that consists of a spirally wound band or a band resembling a partially rolled scroll of paper; S scrolls are found in ornamental brackets, window and door surrounds, and in other ornamental bands.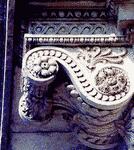 strapwork
Decoration formed by interlaced strips, either applied or carved in wood, stone, or plaster; used in screens, ceilings and cornices.
tooth
One of a series of carved ornaments, typically a pyramidal shape or a four-petal flower, usually set in a concave molding band; used in the Romanesque and Gothic Revival styles.
trefoil
An architectural ornament resembling a three-leaf clover.
wreath
A decorative element in the form of a garland or band of foliage; often intertwined with flowers, fruits, and ribbons.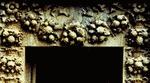 Illustrated Dictionary of Architecture Copyright © 2012, 2002, 1998 by The McGraw-Hill Companies, Inc. All rights reserved
The following article is from The Great Soviet Encyclopedia (1979). It might be outdated or ideologically biased.
Ornament
a patterned design consisting of rhythmically ordered elements that is used to decorate various objects (utensils, weapons, textiles, furniture, and books), architecture (both the interior and exterior), and works of the plastic, primarily applied, arts. Primitive peoples also ornament the body with paint or tattoos. Ornament is integrated with the surface that it embellishes or visually organizes and, as a rule, brings out or accentuates the structure of the object to which it is applied. Ornament consists of abstract forms or stylized realistic motifs which are often simplified beyond recognition.
The origins of ornament are not entirely clear. Ornament is a form of aesthetic interpretation of human activity, viewing that activity as something that creatively transforms and lends order to nature. There is no question that technological processes were partly responsible for the ornamentation of objects. Many of the geometric motifs on the most ancient vessels were very likely produced by the impression of bits of wickerwork on the clay, and other ornamental forms may have arisen from different textile weaves.
A ritualistic or magical role was basic to the oldest forms of ornament, which made broad use of signs, symbols, and stylized depictions of magical or religious themes. A poetic, folkloric attitude toward the world is reflected in ornament, especially in folk art, where ornament is most common. Over time, the ancient ornamental motifs lost their original meaning yet retained their decorative and structural expressiveness. Aesthetic demands of society played an important role in the origin and subsequent development of ornament: the rhythmic regularity of generalized motifs was an early means of artistic interpretation of the world, permitting comprehension of the orderliness and symmetry of life.
The origins of ornament go back to the earliest historical eras, with its rudiments being established in the Paleolithic. In the aesthetic culture of the Neolithic, ornament achieved great variety of form and occupied a dominant position in art. Later, with the development of specific representational forms in the plastic arts, ornament lost its dominant position and intellectual importance but nonetheless retained an important organizing and embellishing role in the plastic arts.
Every era, every style, and every consistently developed national culture has developed its own system of ornamentation. Therefore, ornament is a reliable indication of the period and country to which a given work belongs. It has attained the greatest development in places where the tendency to stylization predominated: in the ancient Orient, pre-Columbian America, ancient and medieval Asia, and medieval Europe. In folk art, whose origins go back to the periods of pre-class and early class-structured society, persistent principles and forms of ornament develop, which to a large extent determine national artistic traditions.
The formal characteristics of ornament include decorative stylization, two-dimensionality, and an organic connection between ornament and the surface to which it is applied. Ornament always organizes this surface and often brings out the structural logic of the object itself. Not every patterned design can be considered ornament. For example, a patterned fabric having an infinitely repetitious design is not, strictly speaking, ornamental. According to the composition dictated by the form of the object being embellished, ornament may be in the form of a band, a centric pattern, a border, or a heraldic design. It sometimes may cover the entire surface. Several forms of ornament may be combined.
Various motifs are used in ornament. Geometric motifs consist of such abstract forms as dots, lines, broken lines, zigzags, cross-hatching, circles, rhombuses, polygons, stars, crosses, or spirals. More complex ornamental motifs include the meander. Floral ornament uses stylized leaves, flowers, and fruits; examples of such ornament are the lotus, papyrus, palmette, and acanthus designs. Zoomorphic ornament employs stylized depictions of real or imaginary animals. Human figures, architectural elements, weapons, and various signs and emblems (heraldry) are also used as motifs in ornament. The stylized inscriptions on architectural monuments (such as Middle Asian medieval mosques) or in books (ligatures) constitute a special category of ornament. Intricate combinations of different motifs are not unusual: geometric and zoomorphic forms are often combined, as are geometric and floral motifs (arabesques).
REFERENCES
Lorents, N. F. Ornament vsekh vremen i stilei, nos. 1–8. St. Petersburg, 1898–99.
Meyer, P. Das Ornament in Kunstgeschichte. Zurich, 1944.
Evans, J. Style in Ornament. Oxford, 1950.
Bossert, H. Th. Arte ornamentale. Barcelona, 1957.
The Great Soviet Encyclopedia, 3rd Edition (1970-1979). © 2010 The Gale Group, Inc. All rights reserved.
ornament
In architecture, every detail of shape, texture, and color that is deliberately exploited or added to attract an observer.
McGraw-Hill Dictionary of Architecture and Construction. Copyright © 2003 by McGraw-Hill Companies, Inc.
ornament
Music any of several decorations, such as the trill, mordent, etc., occurring chiefly as improvised embellishments in baroque music
Collins Discovery Encyclopedia, 1st edition © HarperCollins Publishers 2005