orthostate
orthostate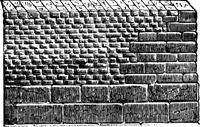 1. A stone taller than wide.
2. A stone in the lower course of a wall, higher than the regular blocks of the courses above, sometimes serving as a high base for a wall of sun-dried brick.
McGraw-Hill Dictionary of Architecture and Construction. Copyright © 2003 by McGraw-Hill Companies, Inc.