outrigger
Also found in:
Dictionary
,
Thesaurus
,
Medical
,
Wikipedia
.
outrigger,
canoe-type vessel with a wood or bamboo float attached to the side of the craft and extending out over the water. The term outrigger also refers to the float itself. The craft is used throughout the South Pacific, although its greatest development has probably come in Sri Lanka, where traders may load up to 30 tons of cargo into a single vessel. Designed for speed and stability, the outrigger is usually propelled by sail or paddle. Certain sailing outriggers can attain speeds in excess of 20 knots (23 mi/37 km per hr). An outrigger is usually sailed with the float facing the wind, providing a counterweight against capsizing. It becomes dangerous, however, when the float is on the leeward side. To solve this problem, double outriggers, or canoes with an outrigger float on each side, are also used.
Outrigger
A beam that extends from the ridge of a roof beyond the wall of the building; often serves as a support for hoisting tackle or for ornamentation.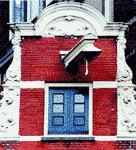 outrigger
[

′au̇t'rig·ər

]

(engineering)

A steel beam or lattice girder extending from a crane to provide stability by widening the base.
outrigger
A beam at the ridge of a roof that extends beyond the end wall of the building to serve as a support for hoisting tackle or the like; also called an outlooker or lookout.
outrigger
1. a framework for supporting a pontoon outside and parallel to the hull of a boat to provide stability
2. a boat equipped with such a framework, esp one of the canoes of the South Pacific
3.
Rowing
another name for
rigger