over-the-horizon radar
Also found in:
Dictionary
,
Acronyms
,
Wikipedia
.
over-the-horizon radar
[′ō·vərthə hə′rīz·ən ′rā'där]

(electromagnetism)

Long-range radar in which the transmitted and reflected beams are bounced off the ionosphere layers to achieve ranges far beyond line of sight.
over-the-horizon radar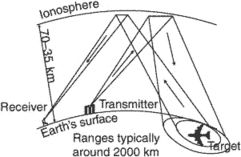 A radar system that makes use of the atmospheric reflection and refraction phenomena to extend its range of detection beyond the line of sight. Targets can be detected by over-the-horizon radar thousands of miles away. Over-the-horizon radars may be either forward-scatter or back-scatter systems.