overspeed governor
Also found in:
Acronyms
.
overspeed governor
[

′ō·vər'spēd 'gəv·ə·nər

]

(mechanical engineering)

A governor that stops the prime mover when speed is excessive.

McGraw-Hill Dictionary of Scientific & Technical Terms, 6E, Copyright © 2003 by The McGraw-Hill Companies, Inc.
overspeed governor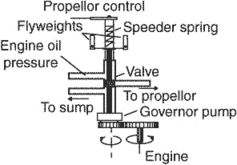 A device to protect the engine against overspeeding. The servofuel is bled off when the governed engine speed is reached. The two types of governors are centrifugal and hydromechanical.
An Illustrated Dictionary of Aviation Copyright © 2005 by The McGraw-Hill Companies, Inc. All rights reserved