panel
Also found in:
Dictionary
,
Thesaurus
,
Medical
,
Legal
,
Acronyms
,
Idioms
,
Wikipedia
.
panel
1.
Law
a. a list of persons summoned for jury service
b. the persons on a specific jury
2. Scots law a person indicted or accused of crime after appearing in court
3.
a. a thin board used as a surface or backing for an oil painting
b. a painting done on such a surface
4. any picture with a length much greater than its breadth
6.
formerly, in Britain
a. a list of patients insured under the National Health Insurance Scheme
b. a list of medical practitioners within a given area available for consultation by these patients
Collins Discovery Encyclopedia, 1st edition © HarperCollins Publishers 2005
Panel
A portion of a flat surface recessed below the surrounding area set off by moldings or some other distinctive feature.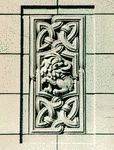 Illustrated Dictionary of Architecture Copyright © 2012, 2002, 1998 by The McGraw-Hill Companies, Inc. All rights reserved
The following article is from The Great Soviet Encyclopedia (1979). It might be outdated or ideologically biased.
Panel
(1) Part of a wall framed by a border (molding, a decorative band) and covered with a painting or a sculptural composition.
(2) A painting, usually in oil or tempera, intended to permanently or temporarily fill a section of a wall or ceiling. Mosaics, ceramics, reliefs, and woodcarvings that are used for the same purpose are also called panels.
---
Panel
(1) A large, flat prefabricated unit used in construction. Panels are used extensively in modern prefabricated construction when erecting various kinds of buildings and structures.
(2) A part of an electrical switchboard, control console, or piece of radio equipment on which control, monitoring, and signaling devices are mounted.
---
Panel
in mining, part of the mining area bordered by the main gallery and boundary of the mining area. Extraction drifts lead into the panel and divide the panel into tiers.
The Great Soviet Encyclopedia, 3rd Edition (1970-1979). © 2010 The Gale Group, Inc. All rights reserved.
panel
[

′pan·əl

]

(civil engineering)

One of the divisions of a lattice girder.

A sheet of material held in a frame.

A distinct, usually rectangular, raised or sunken part of a construction surface or a material.

(computer science)

The face of the console, which is normally equipped with lights, switches, and buttons to control the machine, correct errors, determine the status of the various CPU (central processing unit) parts, and determine and revise the contents of various locations. Also known as control panel; patch panel.

(design engineering)

(engineering)

A metallic or nonmetallic sheet on which operating controls and dials of an electronic unit or other equipment are mounted.

(mining engineering)

A system of coal extraction in which the ground is laid off in separate districts or panels, pillars of extra-large size being left between.

A large rectangular block or pillar of coal.

McGraw-Hill Dictionary of Scientific & Technical Terms, 6E, Copyright © 2003 by The McGraw-Hill Companies, Inc.
frog, panel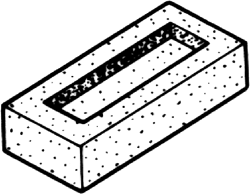 A depression in the bed face of a brick or building block; used to provide a better key for mortar.
---
panel

1. A large, relatively thin board or sheet of lumber, plywood, or other material used as a wall covering.
2. A thin board, plywood sheet, or similar material with all its edges inserted in a groove of a surrounding frame of thick material.
3. A portion of a flat surface recessed or sunk below the surrounding area, distinctly set off by molding or some other decorative device.
4. A section of floor, wall, ceiling, or roof, usually prefabricated and of large size, handled as a single unit in the operations of assembly and erection.
5. A length of formed metal sheet, or an assembly of such sheets, usually with insulation between, as used for wall enclosure on industrial-type buildings.
7. That portion of a truss between adjacent panel points lying in the same chord.
8. Same as panelboard.
McGraw-Hill Dictionary of Architecture and Construction. Copyright © 2003 by McGraw-Hill Companies, Inc.
panel

i
. A subdivision of a parachute gore.
ii
. A section of a stressed-skin structure bounded by strengthening on the ribs.
iii
. A mount or stack of instruments, control devices, or warning lights in an aircraft cockpit.
iv
. A small door in an aircraft skin used as an
access panel
. See
access panel
.
An Illustrated Dictionary of Aviation Copyright © 2005 by The McGraw-Hill Companies, Inc. All rights reserved
panel
(1) (control PANEL) An array of dials, buttons and gauges for configuring hardware or software. The term may refer to a panel of physical dials and buttons or its software equivalent. See control panel and HMI.

(2) (flat PANEL) In the TV manufacturing industry, a panel is a TV set, as all TVs today use flat panel technologies (LCD/LED, plasma or OLED). See flat panel display.

Copyright © 1981-2019 by The Computer Language Company Inc. All Rights reserved. THIS DEFINITION IS FOR PERSONAL USE ONLY. All other reproduction is strictly prohibited without permission from the publisher.