panoramic camera
Also found in:
Dictionary
,
Acronyms
,
Wikipedia
.
The following article is from The Great Soviet Encyclopedia (1979). It might be outdated or ideologically biased.
Panoramic Camera
a wide-angle camera used to obtain photographs with a field of view of from 100° to 360° in the horizontal plane and from 30° to 35° in the vertical plane.
The Great Soviet Encyclopedia, 3rd Edition (1970-1979). © 2010 The Gale Group, Inc. All rights reserved.
panoramic camera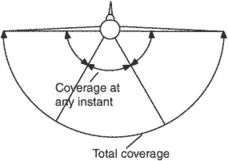 A camera that takes photographs from horizon to horizon. This type of camera is extensively used in low-level high-speed photography. Some designs utilize a lens that revolves about an axis perpendicular to the optical axis; in other designs, the camera itself is swung from side to side to obtain a panoramic field of view. The film moves like a conveyor belt at a speed synchronized with the speed of the moving image, so as to ensure congruency between the image and the film. The two main types of panoramic cameras are the direct-scanning rotary lens and the rotary prism. The camera may be mounted vertically or obliquely within the aircraft to scan across or along the line of flight.
An Illustrated Dictionary of Aviation Copyright © 2005 by The McGraw-Hill Companies, Inc. All rights reserved