pantograph
Also found in:
Dictionary
,
Thesaurus
,
Medical
,
Wikipedia
.
pantograph
1. an instrument consisting of pivoted levers for copying drawings, maps, etc., to any desired scale
2. a sliding type of current collector, esp a diamond-shaped frame mounted on a train roof in contact with an overhead wire
Collins Discovery Encyclopedia, 1st edition © HarperCollins Publishers 2005
Pantograph
A drafting instrument for copying drawings, or plans, either at the same scale or an enlarged or reduced scale.
Illustrated Dictionary of Architecture Copyright © 2012, 2002, 1998 by The McGraw-Hill Companies, Inc. All rights reserved
The following article is from The Great Soviet Encyclopedia (1979). It might be outdated or ideologically biased.
Pantograph
an instrument used to redraw plans, maps, and the like to a different, usually reduced, scale. Pantographs are made in various sizes and to different designs; for example, in some, the bar assembly is suspended, and in others it rides on casters. Figure 1 shows a suspension-type pantograph, in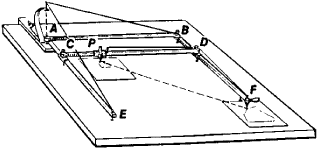 which the weight of the guide bars is partially balanced by the tension of the guys. In comparison to other designs, this pantograph has a softer, smoother motion and makes a more accurate copy. It consists of two parallel pairs of guide bars, which are interconnected by joints at points A, B, C, and D to form the parallelogram ABCD. Point A is fixed, a pin at F is used to trace the original, and a pencil at P traces a reduced copy. The scale ratio of the original and the copy can be altered by sliding the guide bar CD along the guide bars AE and BF; at the same time, in order to more closely reproduce the original, the pencil at P must be shifted so that A, P, and F lie on a straight line.
The Great Soviet Encyclopedia, 3rd Edition (1970-1979). © 2010 The Gale Group, Inc. All rights reserved.
pantograph
[

′pan·tə'graf

]

(engineering)

A device that sits on the top of an electric locomotive or cars in an electric train and picks up electricity from overhead wires to run the train.

(graphic arts)

A drawing instrument used for copying and consisting of four rigid bars linked together in a parallelogram form; one arm, equipped with a pencil, is connected through the bars to a pointer that is used to trace the original drawing.

McGraw-Hill Dictionary of Scientific & Technical Terms, 6E, Copyright © 2003 by The McGraw-Hill Companies, Inc.
Pantograph
A four-bar parallel linkage, with no links fixed, used as a copying device for generating geometrically similar figures, larger or smaller in size, within the limits of the mechanism. In the illustration the curve traced by point T will be similar to that generated by point S. This similarity results because points T and S will always lie on the straight line; triangles and are always similar because lengths, and are constant and is always parallel to. Distance always maintains a constant proportion to distance because of the similarity of the above triangles. Numerous modifications of the pantograph as a copying device have been made.
A second use of the pantograph geometry is seen in the collapsible parallel linkage used on electric locomotives and rail cars to keep a current-collector bar or wheel in contact with an overhead wire. Two such congruent linkages in planes parallel to the train's motion are affixed securely on the top of the locomotive with joining horizontal members perpendicular to each other. The uppermost member collects the current, and powerful springs thrust the configuration upward with sufficient pressure normally to make low-resistance contact from wire to collector.
McGraw-Hill Concise Encyclopedia of Engineering. © 2002 by The McGraw-Hill Companies, Inc.
pantograph
A drafting instrument for copying drawings, plans, etc., either on the same scale or on an enlarged or a reduced scale.
McGraw-Hill Dictionary of Architecture and Construction. Copyright © 2003 by McGraw-Hill Companies, Inc.