parallax in altitude
parallax in altitude
[

′par·ə'laks in ′al·tə'tüd

]

(navigation)

Geocentric parallax of a celestial body at any altitude; the term is used to distinguish the parallax at the given altitude from the horizontal parallax, when the body is in the horizon.

McGraw-Hill Dictionary of Scientific & Technical Terms, 6E, Copyright © 2003 by The McGraw-Hill Companies, Inc.
parallax in celestial altitude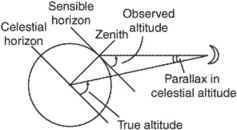 The angle between the straight line from a celestial body to an observer, and the straight line from the celestial body to the center of the earth. This angle is assumed to be infinitely small except when observing the moon or satellites, as the other bodies are at an infinite distance. Also called
parallax in altitude
.
An Illustrated Dictionary of Aviation Copyright © 2005 by The McGraw-Hill Companies, Inc. All rights reserved