patience
Also found in:
Dictionary
,
Thesaurus
,
Medical
,
Idioms
,
Wikipedia
.
Patience:
see Pearl, ThePearl, The,
one of four Middle English alliterative poems, all contained in a manuscript of c.1400, composed in the West Midland dialect, almost certainly by the same anonymous author, who flourished c.1370–1390.
.....

Click the link for more information.

.
---
patience:
see solitairesolitaire
or patience,
any card game that can be played by one person. Solitaire is the American name; in England it is known as patience. There are probably more kinds of solitaire than all other card games together.
.....

Click the link for more information.

.

The Columbia Electronic Encyclopedia™ Copyright © 2013, Columbia University Press. Licensed from Columbia University Press. All rights reserved.

www.cc.columbia.edu/cu/cup/
miserere, subsellium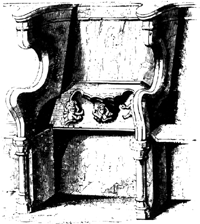 A ledge on the bottom of a hinged seat in a church; when the seat is raised, the ledge provides some support for a worshiper or choir singer who, in standing, leans against it.
McGraw-Hill Dictionary of Architecture and Construction. Copyright © 2003 by McGraw-Hill Companies, Inc.
Patience
Amelia
idealized personification of patience and perseverance. [Br. Lit.: Amelia]
dock bloom
symbolizes patience. [Flower Symbolism: Jobes, 454]
Enid
constant and patient wife of Sir Geraint. [Welsh Lit.: Mabinogion; Br. Lit.: "Idylls of the King"]
Griselda
lady immortalized for patience and wifely obedience. [Br. Lit.: Canterbury Tales, "Clerk of Oxenford's Tale"]
Hermione
bore Leontes' unfounded jealousy, thus gaining his love. [Br. Lit.: The Winter's Tale]
Jacob
serves Laban for fourteen years before receiving permission to marry Rachel. [O.T.: Gen. 24:34]
Job
underwent trial by God at Satan's suggestion. [O.T.: Job]
Penelope Odysseus'
wife; model of feminine virtue, waits twenty years for husband's return. [Gk. Lit.: Odyssey]
Allusions—Cultural, Literary, Biblical, and Historical: A Thematic Dictionary. Copyright 2008 The Gale Group, Inc. All rights reserved.
patience
Chiefly Brit any of various card games for one player only, in which the cards may be laid out in various combinations as the player tries to use up the whole pack
Collins Discovery Encyclopedia, 1st edition © HarperCollins Publishers 2005