pavilion
Also found in:
Dictionary
,
Thesaurus
,
Idioms
,
Wikipedia
.
pavilion
1. a summerhouse or other decorative shelter
2. a building or temporary structure, esp one that is open and ornamental, for housing exhibitions
3. a large ornate tent, esp one with a peaked top, as used by medieval armies
4. one of a set of buildings that together form a hospital or other large institution
Collins Discovery Encyclopedia, 1st edition © HarperCollins Publishers 2005
Pavilion
An open structure or small ornamental building, shelter or kiosk used as a summer house or as an adjunct of a larger building. It is usually a detached structure for specialized activities, and is often located as a terminal structure with a hipped roof on all sides so as to have a pyramidal form.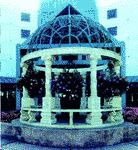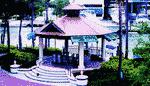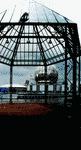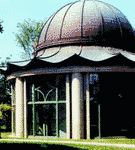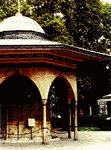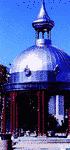 Illustrated Dictionary of Architecture Copyright © 2012, 2002, 1998 by The McGraw-Hill Companies, Inc. All rights reserved
The following article is from The Great Soviet Encyclopedia (1979). It might be outdated or ideologically biased.
Pavilion
(1) A small or light and open structure that stands alone and has a special relation to the outdoors. Many temple and palace buildings in the Orient are pavilions. The pavilion became an integral part of European palace and park architecture during the 17th and 18th centuries in France and Britain and in the 18th and first quarter of the 19th century in Russia.
(2) A portion of a large building, usually topped by a separate roof.
(3) A permanent or temporary structure, intended for exhibits, trade, the filming of motion pictures, and so forth.
The Great Soviet Encyclopedia, 3rd Edition (1970-1979). © 2010 The Gale Group, Inc. All rights reserved.
pavilion
[

pə′vil·yən

]

(lapidary)

The portion of a faceted gemstone below the girdle. Also known as base.

McGraw-Hill Dictionary of Scientific & Technical Terms, 6E, Copyright © 2003 by The McGraw-Hill Companies, Inc.
pavilion
1. A detached or semidetached structure used for entertainment or (as at a hospital) for specialized activities.
2. On a façade, a prominent portion usually central or terminal, identified by projection, height, and special roof forms.
3. In a garden or fairground, a temporary structure or tent, usually ornamented.
McGraw-Hill Dictionary of Architecture and Construction. Copyright © 2003 by McGraw-Hill Companies, Inc.