pavilion roof
pavilion roof
A roof hipped equally on all sides, giving it a pyramidal form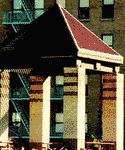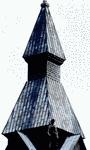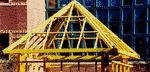 See also: Roof
pavilion roof
1. A roof hipped equally on all sides, so as to have a pyramidal form; a pyramidal hipped roof.
2. A similar roof having more than four sides; a polygonal roof.
3.
A steeply pitched
hipped roof
whose upper termination is usually a ridge somewhat shorter than the length of the building.