payload
Also found in:
Dictionary
,
Thesaurus
,
Acronyms
,
Wikipedia
.
payload
1. that part of a cargo earning revenue
2.
a. the passengers, cargo, or bombs carried by an aircraft
b. the equipment carried by a rocket, satellite, or spacecraft
Collins Discovery Encyclopedia, 1st edition © HarperCollins Publishers 2005
payload
(pay -lohd)
1. The total mass of a satellite, spacecraft, etc., that is carried into orbit by a launch vehicle. It is that part of the total launcher mass that is not necessary for the operation of the launcher. It is usually a small or very small fraction of the total launcher mass.
2. The mass of the experimental and operational equipment of a satellite, planetary probe, etc.
Collins Dictionary of Astronomy © Market House Books Ltd, 2006
The following article is from The Great Soviet Encyclopedia (1979). It might be outdated or ideologically biased.
Payload
in space science and rocket technology, a space vehicle (artificial satellite or spaceship) or ballistic missile warhead carrying out a specific mission after separation from the final stage of the rocket carrier. The weight of payloads that can be launched by rockets varies from a few kilograms to several dozen metric tons.
The Great Soviet Encyclopedia, 3rd Edition (1970-1979). © 2010 The Gale Group, Inc. All rights reserved.
payload
[

′pā'lōd

]

(aerospace engineering)

That which an aircraft, rocket, or the like carries over and above what is necessary for the operation of the vehicle in its flight.

(mining engineering)

The weight of coal, ore, or mineral handled, as distinct from dirt, stone, or gangue.

McGraw-Hill Dictionary of Scientific & Technical Terms, 6E, Copyright © 2003 by The McGraw-Hill Companies, Inc.
payload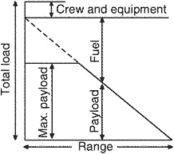 That part of the useful load of an aircraft that is over and above the load necessary for the operation of the vehicle. It includes the commercial load of a civil aircraft and armament carried on board a military aircraft. The proportion of fuel to the payload depends on the range required, but the payload is limited by the space available and the aircraft maximum structural weight. See
payload/range graph
.
An Illustrated Dictionary of Aviation Copyright © 2005 by The McGraw-Hill Companies, Inc. All rights reserved
payload
(1) The "actual data" in a packet or file minus all headers attached for transport and minus all descriptive meta-data. In a network packet, headers are appended to the payload for transport and then discarded at their destination. In a key-length-value structure, the key and length are descriptive data about the value (the payload). See protocol stack.

(2) In the analysis of malicious software such as worms, viruses and Trojans, it refers to the software's harmful results. Examples of payloads include data destruction, messages with insulting text or spurious email messages sent to a large number of people.

Copyright © 1981-2019 by The Computer Language Company Inc. All Rights reserved. THIS DEFINITION IS FOR PERSONAL USE ONLY. All other reproduction is strictly prohibited without permission from the publisher.