pendentive
Also found in:
Dictionary
,
Wikipedia
.
pendentive,
in architecture, a constructive device permitting the placing of a circular dome over a square room or an elliptical dome over a rectangular room. The pendentives, which are triangular segments of a sphere, taper to points at the bottom and spread at the top to establish the continuous circular or elliptical base needed for the dome. In masonry the pendentives thus receive the weight of the dome, concentrating it at the four corners where it can be received by the piers beneath. Prior to the pendentive's development, the device of corbeling or the use of the squinchsquinch,
in architecture, a piece of construction used for filling in the upper angles of a square room so as to form a proper base to receive an octagonal or spherical dome.
.....

Click the link for more information.

in the corners of a room had been employed. The first attempts at pendentives were made by the Romans, but full achievement of the form was reached only by the Byzantines in Hagia Sophia at Constantinople (6th cent.). Pendentives were commonly used in Renaissance and baroque churches, with a drum often inserted between the dome and pendentives.

The Columbia Electronic Encyclopedia™ Copyright © 2013, Columbia University Press. Licensed from Columbia University Press. All rights reserved.

www.cc.columbia.edu/cu/cup/
Pendentive
The curved triangular surface that results when the top corner of a square space is vaulted so as to provide a circular base for a dome.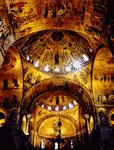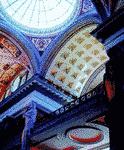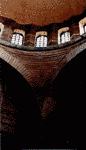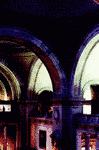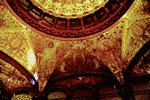 Illustrated Dictionary of Architecture Copyright © 2012, 2002, 1998 by The McGraw-Hill Companies, Inc. All rights reserved
The following article is from The Great Soviet Encyclopedia (1979). It might be outdated or ideologically biased.
Pendentive
a curved, triangular feature whose purpose is to enable a circular dome or drum to be supported above a square substructure. The top of the triangle is inverted, filling the space between the arches that join the adjacent pillars of the substructure. The bases of the triangles of the pendentives form a circle and distribute the load of the dome along the perimeter of the arches. Being one of the basic structural elements of Byzantine architecture, pendentives were characteristic of ancient Russian churches. They are also seen in domed buildings of the Renaissance and of the 17th, 18th, and 19th centuries.
REFERENCES
Kuznetsov, A. V. Svody i ikh dekor. Moscow, 1938.
Smith, E. The Dome. Princeton, 1950.
The Great Soviet Encyclopedia, 3rd Edition (1970-1979). © 2010 The Gale Group, Inc. All rights reserved.
pendentive
1. One of a set of curved wall surfaces which form a transition between a dome (or its drum) and the supporting masonry.
2. In medieval architecture and derivatives, one of a set of surfaces vaulted outward from a pier, corbel, or the like.
McGraw-Hill Dictionary of Architecture and Construction. Copyright © 2003 by McGraw-Hill Companies, Inc.