penguin
Also found in:
Dictionary
,
Thesaurus
,
Idioms
,
Wikipedia
.
penguin
penguin, originally the common name for the now extinct great auk of the N Atlantic and now used (since the 19th cent.) for the unrelated, generally antarctic diving birds of the Southern Hemisphere. Penguins, which are related most closely to the albatrosses, are the most highly specialized of all birds for marine life. They swim entirely by means of their flipperlike wings, using their webbed feet as rudders. Their stiff feathers serve as insulation, and are waterproof when oiled. Since their legs are set far back on their bodies, they waddle awkwardly on land, and often travel by tobogganing on their bellies over the ice as they migrate—sometimes great distances—each fall to their nesting sites.
Underwater they can swim up to 25 mi (40.3 km) per hr as they pursue the fish, squid, and shrimp that form their diet. They do not eat while on land, subsisting on a layer of fat under the skin; this results in weight losses of up to 75 lb (33.8 kg) during the two-month incubation period. Their chief enemies are the leopard seal, killer whale, and skua gull. Penguins are highly gregarious, and a population density of half a million birds in 500 acres has been counted at a colony in Antarctica.
There are 17 species of penguins, 10 of which are considered endangered or threatened. The largest penguins, the emperor and the king (3–4 ft/91.5–122 cm in height), incubate their eggs between their feet in a fold of skin. The smaller jackass penguins, Spheniscus demersus, are named for their braying cry, and crested penguins (genus Eudyptes) are distinguished by yellow plumes on either side of the head. Smallest of all is the little blue penguin, Eudyptula minor, of New Zealand and Australia, which is 16–17 in. (41–44 cm) tall. Other penguins also live in more northerly waters, such as the Galápagos penguin Spheniscus mendiculus, found in equatorial waters.
Penguins are classified in the phylum Chordata, subphylum Vertebrata, class Aves, order Sphenisciformes, family Spheniscidae.
Bibliography
See E. G. Simpson, Penguins, (1982).
The Columbia Electronic Encyclopedia™ Copyright © 2022, Columbia University Press. Licensed from Columbia University Press. All rights reserved.
What does it mean when you dream about a penguin?
Dreaming about a penguin or about being a penguin can indicate emotional coldness or a sense of isolation. A penguin, as a bird that can't fly, can also represent someone who seems to be able to function despite lacking something essential. A penguin might also symbolize a recalled image of someone wearing a tuxedo.
The Dream Encyclopedia, Second Edition © 2009 Visible Ink Press®. All rights reserved.
penguin
[

′peŋ·gwən

]

(vertebrate zoology)

Any member of the avian order Sphenisciformes; structurally modified wings do not fold and they function like flippers, the tail is short, feet are short and webbed, and the legs are set far back on the body.

McGraw-Hill Dictionary of Scientific & Technical Terms, 6E, Copyright © 2003 by The McGraw-Hill Companies, Inc.
penguin
1. any flightless marine bird, such as Aptenodytes patagonica (king penguin) and Pygoscelis adeliae (Adélie penguin), of the order Sphenisciformes of cool southern, esp Antarctic, regions: they have wings modified as flippers, webbed feet, and feathers lacking barbs
Collins Discovery Encyclopedia, 1st edition © HarperCollins Publishers 2005
penguin
(1) (Penguin) A periodic set of changes to the Google search algorithm. See Google algorithm.

(2) The mascot for the Linux operating system, which was inspired by Linux Torvalds, creator of Linux. The mascot's name is "Tux," which stands for Torvalds UniX or tuxedo. Many people think penguins look like they are wearing a tux. See Penguinhead and Linux.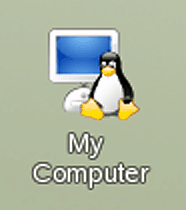 The Linux Mascot
Linux users see penguin symbols often in their travels around the Linux world. This penguin appears on the desktop of Linux users running the KDE user interface.
Copyright © 1981-2019 by The Computer Language Company Inc. All Rights reserved. THIS DEFINITION IS FOR PERSONAL USE ONLY. All other reproduction is strictly prohibited without permission from the publisher.
Penguin
(dreams)

The penguin is an interesting earth-bound bird that lives in and around the ocean. As a dream symbol it may represent concrete thinking, feelings of being burdened by unwanted emotions, lethargy, and a need to achieve balance. Think about your dream and see if any of these ideas are relevant to you. Superstition-based dream interpretation books say that the penguin indicates that your problems are not as serious as you may think them to be.

Bedside Dream Dictionary by Silvana Amar Copyright © 2007 by Skyhorse Publishing, Inc.