persona
(redirected from personae)
Also found in:
Dictionary
,
Thesaurus
,
Medical
.
persona
1. a character in a play, novel, etc.
2. (in Jungian psychology) the mechanism that conceals a person's true thoughts and feelings, esp in his adaptation to the outside world
Persona
A mask of terra-cotta, stone or marble, designed to imitate the human face or the head of an animal, usually in the form of a grotesque; employed as an antic or as a gargoyle for discharging water.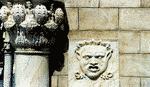 Persona
(dreams)

The English term personality is derived from the Greek word persona, which refers to the masks worn by the actors in ancient Greek dramas. In psychology, the persona is the personality that we project to the world (i.e., the self we want other people to see). As a public self, the persona is a means of facilitating social interaction and should not be viewed negatively as a "false" self. One of the most influential formulations of the notion of persona was put forward by the Swiss psychiatrist Carl Jung. In Jung's personality theory, the persona is one among several selves: the ego represents what we might call the self-image (the self we imagine ourselves to be); the shadow (which is a kind of alter-ego) embodies the traits that have been rejected as "not-self"; the anima or animus is the subconscious counter-self composed of the characteristics our particular culture identifies as belonging to the opposite sex; and the self is an archetype from the collective unconscious that provides the subconscious pattern for the ego (for the sense of selfhood).

Each of these aspects of the self can appear in dreams in various forms. In the case of the persona, dream images include everything from clothing that we put on or take off in dreams to the roles we assume. In Jungian therapy, the persona is viewed as a means whereby new characteristics can be integrated into the patient's ego structure. In other words, the subject can draw on previously rejected personality traits from the shadow and the anima or animus by acting them out in certain social situations and later identifying with them as part of a new ego concept.
persona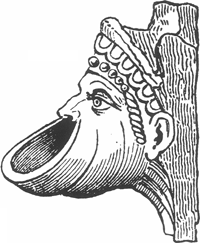 A mask of terra-cotta, marble, etc., designed to imitate the human face or the head of an animal, usually in grotesque form, employed as an antefix in buildings, as an ornament for discharging water, or as a gargoyle.
Persona
An add-on to the Firefox Web browser that customizes the toolbar area at the top of the window. There are hundreds of Personas that can be previewed by moving the mouse over the samples in the Personas Web page. For more information, visit www.getpersonas.com. See Firefox.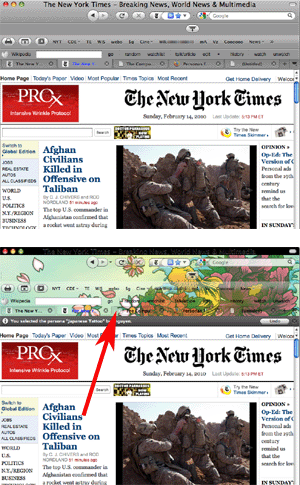 From Default to Japanese Tattoo
Compare the standard toolbar area on the Mac version of Firefox at the top with the Japanese Tattoo Persona on the bottom.