personal digital assistant
Also found in:
Dictionary
,
Thesaurus
,
Medical
,
Financial
,
Acronyms
,
Wikipedia
.
personal digital assistant
personal digital assistant
(PDA), lightweight, hand-held
computer
designed for use as a personal organizer with communications capabilities; also called a handheld. A typical PDA has no keyboard, relying instead on special hardware and
pen-based computer
software to enable the recognition of handwritten input, which is entered on the surface of a
liquid crystal
display screen. In addition to including such applications as a word processor, spreadsheet, calendar, and address book, PDAs are used as notepads, appointment schedulers, and wireless communicators for sending and receiving data, faxes, and electronic-mail messages. Introduced in 1993, PDAs achieved only modest acceptance during the remainder of the decade due to their relatively high price and limited applications, but improved software and lower prices subsequently led to more widespread use. In the early 21st cent., however, smartphones (see
cellular telephone
) equipped with a wide range of applications supplanted PDAs. See also
palmtop
.
The Columbia Electronic Encyclopedia™ Copyright © 2022, Columbia University Press. Licensed from Columbia University Press. All rights reserved.
personal digital assistant
[

'pərs·ən·əl 'dij·əd·əl ə′sis·tənt

]

(computer science)

McGraw-Hill Dictionary of Scientific & Technical Terms, 6E, Copyright © 2003 by The McGraw-Hill Companies, Inc.
Personal Digital Assistant
(computer)

(PDA) A small hand-held computer typically providing calendar, contacts, and note-taking applications but may include other applications, for example a

web browser

and

media player

. Small keyboards and pen-based input systems are most commonly used for user input.

The

Apple Newton

was a fairly early example.

This article is provided by FOLDOC - Free Online Dictionary of Computing (foldoc.org)
PDA
(Personal Digital Assistant) An earlier handheld computer for managing contacts, appointments and tasks. Performing the functions of a computer-based personal information manager (see PIM), PDAs were superseded by smartphones, which provide PDA functions along with everything else (see smartphone).

Newton, the Pioneer - Palm, the Revolution
In 1993, Apple's pen-based MessagePad, commonly known as the "Newton," was the pioneer in this field, and then-Apple CEO John Sculley actually coined the term PDA. However, PalmPilots, introduced three years later, popularized the technology. See Newton, Palm and personal communicator.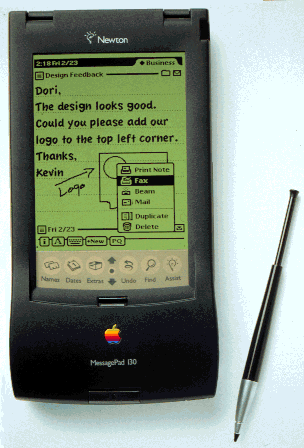 The Newton
Ahead of its time, Apple's Newton pioneered the PDA concept in 1993 and later spun off Newton, Inc. to specialize in the technology. Menus were tapped and text was entered with a stylus. (Image courtesy of Apple Inc.)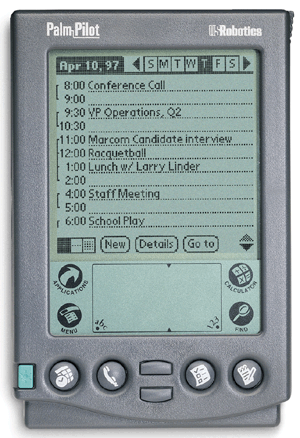 The PalmPilot
Introduced in 1996, the PalmPilot was the first model of the Palm family, which started a revolution in handheld organizers. (Image courtesy of palmOne, Inc.)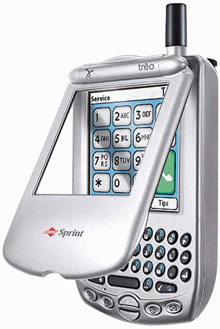 Palm Treo
In 2002, the Palm Treo was a phone and PDA in one unit. Along with the BlackBerry, this was the start of combining applications with a phone. (Image courtesy of Palm, Inc.)
---
virtual assistant
(1) An individual who performs administrative functions for clients. See human virtual assistant.

(2) An application that provides a verbal exchange of questions and answers in the user's native language. Although virtual assistants are a feature in tablets, desktop computers and table top units, their inclusion in the smartphone made the phone an incredibly useful electronic companion.

Also called a "personal assistant," "digital assistant," "intelligent assistant," "voice assistant" and "intelligent agent," Apple popularized the concept in 2011 with Siri, and Google, Microsoft and Amazon followed. See Siri, Google Assistant and Cortana.

Virtual assistants are also used to make phone calls and set alarms, reminders and calendar appointments, as well as turn on lights, music and other smart home devices. Over time, results become more personalized. Virtual assistants were the first embodiment of artificial intelligence used every day by millions of people (see AI). See chatbot and smart home.

From Mobile to Tabletop
Starting out in phones and tablets, virtual assistants migrated to actual desktops and tabletops, many with their own display screen such as the Alexa-equipped Echo Show (see Amazon Echo, Google Nest and Apple HomePod).

Heavy Lifting in the Cloud
The virtual assistant is primarily driven by knowledge bases on the Internet. However, that vast amount of information is combined with the user's own contacts and calendar to provide personalized assistance. See knowledge base, Semantic Web, AI and S Voice.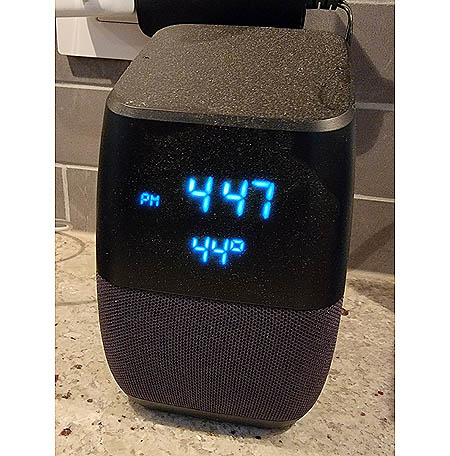 A Google Assistant
The virtual assistant in this Insignia smart speaker is Google Assistant. It is similar to Google's own Nest Mini but without Google Voice service. (Image courtesy of Stephen Richman.) See Google Nest and Google Assistant.
Copyright © 1981-2019 by The Computer Language Company Inc. All Rights reserved. THIS DEFINITION IS FOR PERSONAL USE ONLY. All other reproduction is strictly prohibited without permission from the publisher.