phase angle
Also found in:
Dictionary
,
Thesaurus
,
Wikipedia
.
phase angle
The angle between the lines connecting the Moon and Sun and the Moon and Earth or connecting a planet and the Sun and the planet and Earth (see illustration). At full or new Moon the phase angle is 0° or 180°, respectively. At first and last quarters it is 90°. For the superior planets phase angle is greatest at quadrature. For the inferior planets it is greatest (180°) at inferior conjunction and equals 90° at greatest elongation.

Collins Dictionary of Astronomy © Market House Books Ltd, 2006
phase angle
[

′fāz 'aŋ·gəl

]

(physics)

The difference between the phase of a sinusoidally varying quantity and the phase of a second quantity which varies sinusoidally at the same frequency. Also known as phase difference.

McGraw-Hill Dictionary of Scientific & Technical Terms, 6E, Copyright © 2003 by The McGraw-Hill Companies, Inc.
phase angle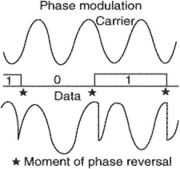 i
. An angle between the sight lines to the sun and the earth measured at a remote location (e.g., other celestial bodies).
ii
. The number of electrical degrees between the time an AC (alternating current) voltage passes through zero moving in the positive direction and the time the current passes through zero going in the same direction.
iii
. The phase difference between two sets of periodic phenomena expressed in an angular measure.
An Illustrated Dictionary of Aviation Copyright © 2005 by The McGraw-Hill Companies, Inc. All rights reserved