solid ink printer
(redirected from phase change printer)
solid ink printer
A laser-class printer that uses solid wax inks that are melted into a liquid before being used. Instead of jetting the ink onto the paper directly as inkjet printers do, solid ink printers jet the ink onto a drum. A better registration of color is obtained by transferring the ink to the drum first and then to the printer, because the drum can be more tightly controlled than moving paper.

Tektronix, Inc., whose color printer division was acquired by Xerox in 2000, pioneered the solid ink printer market with its crayonlike cartridges. When introduced in the mid-1990s, the color quality of the Tektronix printers was stunning, and its print speeds exceeded that of an equivalent-priced laser printer because it printed colors in one pass instead of four. In contrast, with laser printers, each of the four CMYK colors must be applied to a secondary accumulator drum one at a time before the image is transferred to paper. The Tektronix-developed technology applies a four-color solid ink mirror image onto the drum in one pass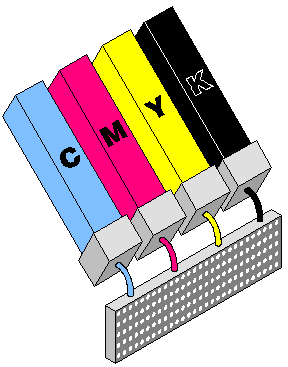 Solid Ink Printhead
The solid wax ink is melted and turned into a liquid before it enters the plumbing of the printhead. The inks are typically jetted from the nozzles using the piezoelectric drop on demand method. The printhead in this example is as wide as the paper.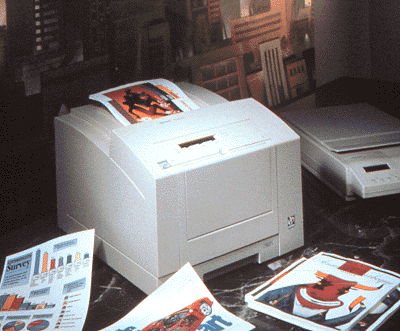 Solid Ink Printer
Tektronix pioneered the solid ink printer market with its Phaser line, which prints more pages per minute than most desktop laser printers. At 6 ppm with a $3495 base model pricetag, the 1996 introduction of this model 350 offered the lowest price for a laser-class color printer and for consumables, estimated at five cents per page for a typical office document. Acquired by Xerox in 2000, subsequent Phaser models print faster and cost less. (Image courtesy of Tektronix, Inc.)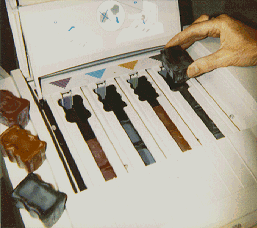 Inserting the Ink
Dropping solid ink blocks into the chambers of the Xerox-Tektronix Phaser is a simple and clean operation. Each color block is molded differently to ensure correct placement.
Copyright © 1981-2019 by The Computer Language Company Inc. All Rights reserved. THIS DEFINITION IS FOR PERSONAL USE ONLY. All other reproduction is strictly prohibited without permission from the publisher.