phase modulation
Also found in:
Dictionary
,
Thesaurus
,
Medical
,
Legal
,
Financial
,
Acronyms
,
Wikipedia
.
phase modulation:
see modulationmodulation,
in communications, process in which some characteristic of a wave (the carrier wave) is made to vary in accordance with an information-bearing signal wave (the modulating wave); demodulation is the process by which the original signal is recovered from the wave
.....

Click the link for more information.

.
Phase Modulation
a method of modulating oscillations in which the transmitted signal controls the phase of a high-frequency carrier. The characteristics of phase modulation are similar to those of frequency modulation. If the modulating signal is sinusoidal, the spectra and wave forms of phase-modulated and frequency-modulated signals coincide. Differences between the two methods become apparent if the modulating signal has a more complex wave form.
phase modulation
[

′fāz 'mäj·ə'lā·shən

]

(communications)

Modulation in which the linearly increasing angle of a sine wave has added to it a phase angle that is proportional to the instantaneous value of the modulating signal (message to be communicated). Abbreviated PM.
phase modulation
A method of modulating a sine-wave carrier, so its phase is changed by an amount proportional to the instantaneous value of the modulating voltage.
phase modulation
Varying the angle of a wave in a carrier in order to transmit analog or digital data. For digital signals, phase modulation (PM) is widely used in conjunction with amplitude modulation (AM). For example, quadrature amplitude modulation (QAM) uses both phase and amplitude modulation to create different binary states for transmission (see QAM). See modulation and carrier.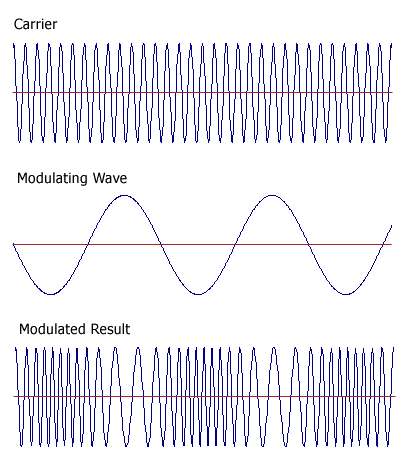 Vary the Angle
In PM modulation, the angle of the carrier wave is varied by the incoming signal. In this example, the modulating wave implies an analog signal.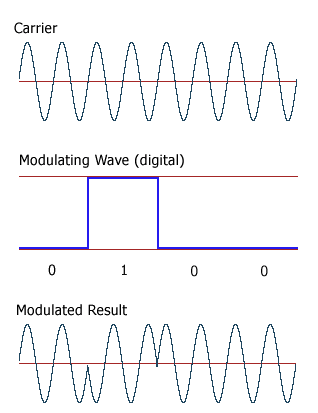 Digital Phase Shift Keying (PSK)
For digital signals, phase shift keying (PSK) uses two phases for 0 and 1 as in this example. See DPSK.