photocell
Also found in:
Dictionary
,
Thesaurus
,
Medical
,
Wikipedia
.
photocell:
see photoelectric cellphotoelectric cell
or photocell,
device whose electrical characteristics (e.g., current, voltage, or resistance) vary when light is incident upon it. The most common type consists of two electrodes separated by a light-sensitive semiconductor material.
.....

Click the link for more information.

.
photocell
(foh -tŏ-sell) An electronic device that converts a light signal, or a signal in the infrared or ultraviolet, into an equivalent electrical signal. The earliest devices were photoelectric cells. These are evacuated and work by the photoelectric effect. Electrons are emitted from a photocathode when a beam of radiation falls on the surface. The electrons are attracted to a positively charged anode so that a current flows in an external circuit. The word photocell is now commonly used to describe photoconductive or photovoltaic devices.
photocell
[

′fōd·ə'sel

]

(electronics)

A solid-state photosensitive electron device whose current-voltage characteristic is a function of incident radiation. Also known as electric eye; photoelectric cell.
photocell
a device in which the photoelectric or photovoltaic effect or photoconductivity is used to produce a current or voltage when exposed to light or other electromagnetic radiation. They are used in exposure meters, burglar alarms, etc.
photocell
A device that detects light. Used for photographic light meters, automatic on-at-dusk street lights and other light-sensitive applications, a photocell varies its resistance between its two terminals based on the amount of photons (light) it receives. Also called a "photodetector," "photoresistor" and "light dependent resistor" (LDR).

The photocell's semiconductor material is typically cadmium sulfide (CdS), but other elements are also used. Photocells and photodiodes are used for similar applications; however, the photocell passes current bi-directionally, whereas the photodiode is unidirectional. See photodiode.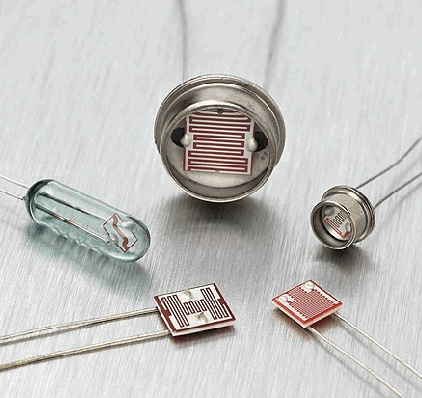 Light Dependent Resistors
Photocells come in a variety of packages such as this assortment from PerkinElmer. As the photocell receives more photons, the resistance is lowered between the two terminals. (Image courtesy of PerkinElmer, Inc., www.perkinelmer.com)