picketing
Also found in:
Dictionary
,
Thesaurus
,
Legal
,
Financial
,
Wikipedia
.
picketing,
act of patrolling a place of work affected by a strike in order to discourage its patronage, to make public the workers' grievances, and in some cases to prevent strikebreakers from taking the strikers' jobs. Picketing may be by individuals or by groups. It has also been used by political groups to influence legislation or to protest governmental policies. Prior to the 1930s, U.S. courts frequently ruled against the legality of strikes and picketing was frequently limited. The Norris-LaGuardia Act (1932), which severely limited the use of court injunctions to stop strikes, and subsequent legislation which guaranteed unions the right to organize, made it much easier to use pickets. The Taft-Hartley Labor Act (1947), however, outlawed mass picketing (i.e., the use of force and intimidation to prevent people from crossing picket lines) and it limited the use of pickets by outlawing secondary boycotts (i.e. using pickets against a third party that might force an employer to settle a strike). Although picketing raises a number of issues under the First Amendment right to free speech, court decisions have generally prohibited the use of vile and obscene language and of threatening gestures by the pickets.

The Columbia Electronic Encyclopedia™ Copyright © 2013, Columbia University Press. Licensed from Columbia University Press. All rights reserved.

www.cc.columbia.edu/cu/cup/
picketing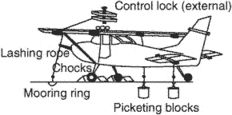 Securing an aircraft when it is parked in the open. An aircraft may be picketed with the
mooring rings
that are built into the pavement. The aircraft also may be picketed to the movable and above-ground picketing blocks. These are heavy blocks made of reinforced concrete with inbuilt rings. Picketing blocks are not used for heavy aircraft. An aircraft is tied to these rings or blocks with rope or cables. Also called a
tiedown
. See also
aircraft tiedown
and
mooring rings
.
An Illustrated Dictionary of Aviation Copyright © 2005 by The McGraw-Hill Companies, Inc. All rights reserved