pipper
pipper
[

′pip·ər

]

(optics)

A small hole in the reticle of an optical sight or computing sight.

McGraw-Hill Dictionary of Scientific & Technical Terms, 6E, Copyright © 2003 by The McGraw-Hill Companies, Inc.
pipper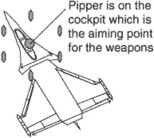 The aiming mark on a gun sight, bombsight, or HUD (head-up display). It is the central point of the graticule that is put onto the target and is normally about 2 milliradians (mil) in diameter.
An Illustrated Dictionary of Aviation Copyright © 2005 by The McGraw-Hill Companies, Inc. All rights reserved