pishtaq
pishtaq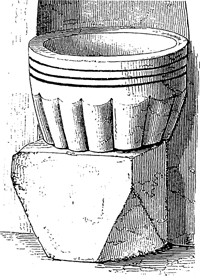 In Muslim or Persian architecture, a monumental gateway marking the entrance to a mosque, caravanserai, madrasah, or mausoleum.
References in periodicals archive
?
The 16th century mausoleum of Sultan Abdul Razzak is a plain brick structure with semi circular corner towers and four iwans with high
pishtaq
walls.
21) The Agra mosque is based on a standard Shahjahani archetype appropriated from the Sultanate architecture of Delhi: (22) an oblong prayer hall formed of vaulted bays or rooms arranged in a row with a dominant central
pishtaq
(a high portal) surmounted by three domes (see figure 2).
The Mughal epigraphical programme inscribed on most Shahjahani mosques followed imperial patterns until the unprecedented encomiums on the
pishtaq
of the Agra Jami Masjid.
The nine-fold/hasht behisht plan for non-imperial tombs with a
pishtaq
facade and high drum supporting a dome was introduced, as well as a trabeate, pillared hall and veranda with a flat roof, dated to 1533.