pith
Also found in:
Dictionary
,
Thesaurus
,
Medical
,
Acronyms
,
Idioms
,
Wikipedia
.
pith
pith,
in botany, core of the
stem
of most plants. Pith is composed of large, loosely packed food-storage cells. As the stem grows older the pith usually dries out, and in some it disintegrates and the stem becomes hollow. In trees the pith becomes much reduced as the woody tissue (xylem) grows. In East Asia, rice paper is made from the pith of some shrubs. Candlewicks are made of the pith of certain rushes.
The Columbia Electronic Encyclopedia™ Copyright © 2022, Columbia University Press. Licensed from Columbia University Press. All rights reserved.
Pith
The central zone of tissue of an axis in which the vascular tissue is arranged as a hollow cylinder. Pith is present in most stems and in some roots. Stems without pith rarely occur in angiosperms but are characteristic of psilopsids, lycopsids, Sphenophyllum, and some ferns. Roots of some ferns, many monocotyledons, and some dicotyledons include a pith, although most roots have xylem tissue in the center.
Pith is composed usually of parenchyma cells often arranged in longitudinal files. This arrangement results from predominantly transverse division of pith mother cells near the apical meristem. See Parenchyma, Root (botany), Stem
McGraw-Hill Concise Encyclopedia of Bioscience. © 2002 by The McGraw-Hill Companies, Inc.
The following article is from The Great Soviet Encyclopedia (1979). It might be outdated or ideologically biased.
Pith
the central portion of a plant stem, consisting of loose parenchymatous tissue. The internal part of the pith sometimes ruptures with age, forming one large air cavity (Labiatae, Um-belliferae, some Gramineae) or several cavities (grape). Roots have no typical pith. Pith usually consists mainly of thin-walled cells, among which there may be lignified thick-walled cells (apple), latex vessels (Campanulaceae, Convulvulaceae), mucous cells (linden), or canals with volatile oils (Compositae, Umbel-liferae). The parenchymatous cells contain reserve starch, which in woody plants is concentrated mainly in external small-celled layers of the pith—the perimedullary zone. Druses or single crystals of calcium oxalate are often found in the pith.
The Great Soviet Encyclopedia, 3rd Edition (1970-1979). © 2010 The Gale Group, Inc. All rights reserved.
pith
[

pith

]

(botany)

A central zone of parenchymatous tissue that occurs in most vascular plants and is surrounded by vascular tissue.

McGraw-Hill Dictionary of Scientific & Technical Terms, 6E, Copyright © 2003 by The McGraw-Hill Companies, Inc.
pith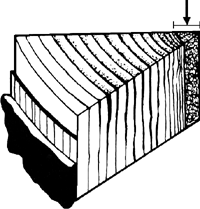 The soft central core of a log.
McGraw-Hill Dictionary of Architecture and Construction. Copyright © 2003 by McGraw-Hill Companies, Inc.
pith
1. the soft fibrous tissue lining the inside of the rind in fruits such as the orange and grapefruit
2. Botany the central core of unspecialized cells surrounded by conducting tissue in stems
3. the soft central part of a bone, feather, etc.
Collins Discovery Encyclopedia, 1st edition © HarperCollins Publishers 2005