plaintext
Also found in:
Dictionary
,
Thesaurus
,
Medical
,
Legal
,
Wikipedia
.
plaintext
[

′plān'tekst

]

(communications)

The form of a message in which it can be generally understood, before it has been transformed by a code or cipher into a form in which it can be read only by those privy to the secrets of the cipher.

(computer science)

Data that are to be encrypted.
plaintext
(cryptography)

A message before

encryption

or after decryption, i.e. in its usual form which anyone can read, as opposed to its encrypted form ("

ciphertext

").
plaintext
(1) Text that contains no formatting. See text email.

(2) Text that has not been encrypted. Also called "cleartext," plaintext is readable by any text editor such as Notepad and word processors that import ASCII text (almost all do). Contrast with "ciphertext," which is text that has been encrypted. See cryptography.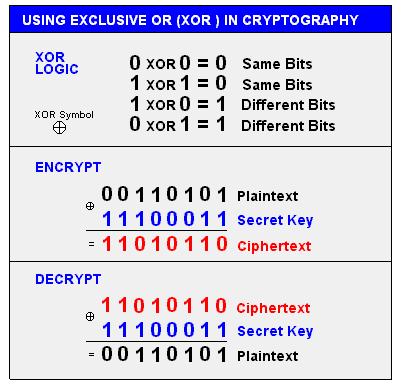 Plaintext Becomes Ciphertext
In this secret key example, the XOR operator is used to turn plaintext into ciphertext and then back to plaintext again. In practice, XOR is not used quite as simply as this. It is used in combination with different techniques and other ciphers to provide the complete encryption algorithm.