pointing device
(redirected from pointing devices)
Also found in:
Dictionary
,
Medical
.
pointing device
[

′pȯint·iŋ di'vīs

]

(computer science)

A handheld device, such as a mouse, puck, or stylus, that controls a position indicator on a display screen. Also known as pick device.
pointing device
(hardware)

Any hardware component that allows a user to input spatial data to a computer.

CAD

systems and Graphical User Interfaces (GUI) allow the user to control and provide data to the computer using physical "gestures" -

point

,

click

, and

drag

- typically by moving a hand-held

mouse

across the surface of the physical desktop and activating switches on the mouse. Movements of the pointing device are echoed on a graphical representation of a desktop on the screen by movements of the mouse pointer and other visual changes.

While the most common pointing device by far is a mouse, other kinds include

tracker ball

,

trackpad

, lightpen, various kinds of digitising tablets which use a stylus, and even a special "

data glove

" that translates the user's movements to computer gestures.
pointing device
An input device used to move the pointer (cursor) on screen. The major pointing device is the mouse for the desktop computer and the touchpad for the laptop, although many road warriors bring along a mouse. Pointing sticks are available on some laptops, and a small number of users prefer trackballs over the mouse. See mouse, touchpad, trackball and pointing stick.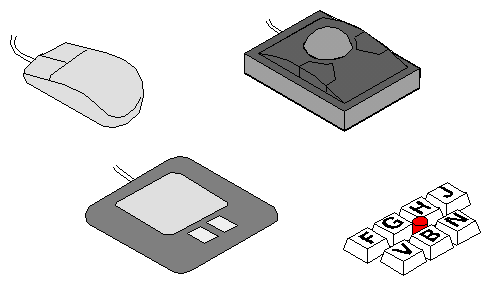 The Major Pointing Devices
Clockwise from the mouse at the upper left are the trackball, pointing stick (red tip) and touchpad.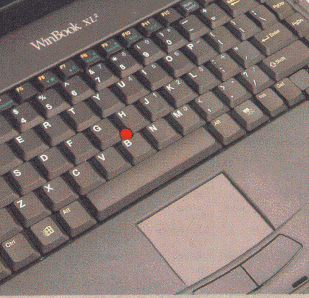 Freedom of Choice
Some laptops provide a pointing stick and touchpad on the same machine, both of which are active at the same time. (Image courtesy of Winbook Computer Corporation, www.winbook.com)