pop art
Also found in:
Dictionary
,
Thesaurus
,
Wikipedia
.
pop art
pop art,
movement that restored realism to avant-garde art; it first emerged in Great Britain at the end of the 1950s as a reaction against the seriousness of
abstract expressionism
. British and American pop artists employed imagery found in comic strips, soup cans, soda bottles, and other commonplace objects to express formal abstract relationships. By this means they provided a meeting ground where artist and layman could come to terms with art. Incorporating techniques of sign painting and commercial art into their work, as well as commercial literary imagery, Roy
Lichtenstein
, James
Rosenquist
, Andy
Warhol
, and lesser-known artists such as American Idelle Weber attempted to fuse elements of popular and high culture, erasing the boundaries between the two.
Bibliography
See L. Alloway, ed. Modern Dreams: The Rise and Fall and Rise of Pop Art (1988); H. Foster, The First Pop Age (2011).
The Columbia Electronic Encyclopedia™ Copyright © 2022, Columbia University Press. Licensed from Columbia University Press. All rights reserved.
The following article is from The Great Soviet Encyclopedia (1979). It might be outdated or ideologically biased.
Pop Art
(from "pop"—an abrupt sound, light blow, or bang that is similar to the sound made when a cork is removed from a bottle; literally, an art that has an explosive, shocking effect; interpreted also as a shortened form of "popular art"), a neo-avant-garde movement in the fine arts. Representing a unique reaction to abstract art and, at the same time, having similarities to dadaism (particularly to the art of M. Duchamp) and surrealism, pop art became widespread in the United States, Great Britain, and other countries in the second half of the 1950's. The movement's founder was the American R. Rauschenberg. Other American pop artists have included C. Oldenburg, J. Rosen-quist, J. Johns, R. Lichtenstein, and J. Dine. British exponents of the movement have included P. Blake and R. Hamilton.
Pop artists seek a "return to reality." Their goals include the "disclosing of the aesthetic value" of mass-produced objects, elements of mass communications (advertisements, photographs, reproductions, comic strips), and the entire artificial and material milieu surrounding man. The artists reproduce, often by means of collage or similar techniques, commonplace objects of modern urbanized life. Such objects include household items, packaging, fragments of interiors, and machine parts. Also reproduced are popular representations of famous personalities or well-known events. Sometimes the actual objects and original representations are incorporated into the composition.
Substituting for reality a meaningless combination of diverse artifacts, pop art, like the modernist movements that preceded it, remains restricted to a narrow range of self-sufficient formal experiments. As remote as abstract art from being consistently realistic, pop art is, in essence, anti-art. To a certain extent, the movement has influenced advertisements, posters, and magazine illustrations. This shows that pop art is geared for the mass culture of capitalist society and that it undermines intellectual values.
REFERENCES
Lifshits, Mikh. "Fenomenologiia konservnoi banki." In Mikh. Lifshits and D. Reingardt, Krizis bezobraziia: Ot kubizma k pop-art. Moscow, 1968.
Sibiriakov, V. Pop-art i paradoksy modemizma. Moscow [1969].
Kuz'mina, M. "Pop-art." In the collection Modernizm. Moscow, 1973.
Rublowsky, J. Pop Art. New York, 1965.
Lippard, L. R. Pop Art, 3rd ed. London [1970].
The Great Soviet Encyclopedia, 3rd Edition (1970-1979). © 2010 The Gale Group, Inc. All rights reserved.
pop art
a movement in modern art that imitates the methods, styles, and themes of popular culture and mass media, such as comic strips, advertising, and science fiction
www.artchive.com/ftp_site_reg.htm
www.artcyclopedia.com/history/pop.html
Collins Discovery Encyclopedia, 1st edition © HarperCollins Publishers 2005
CryptoPunks
Computer-generated pop art characters from Larva Labs that are created as non-fungible tokens (NFTs). Introduced in 2017, there is a total of 10,000 CryptoPunks (6,039 male/3,840 female), and sales have reached the stratosphere. Total revenue has surpassed $1.5 billion, and characters routinely sell for hundreds of thousands of dollars. Because the images are generated by an algorithm, the ones with unique features are considered the most valuable (see below). See non-fungible token.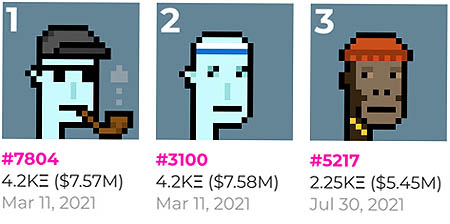 Sample CryptoPunks
In mid-2021, these CryptoPunks sold for the highest prices. The top dozen appear on the CryptoPunks website. (Image courtesy of Larva Labs, www.larvalabs.com)
Copyright © 1981-2019 by The Computer Language Company Inc. All Rights reserved. THIS DEFINITION IS FOR PERSONAL USE ONLY. All other reproduction is strictly prohibited without permission from the publisher.