portal
(redirected from portal biliary bacterial circulation)
Also found in:
Dictionary
,
Thesaurus
,
Medical
,
Financial
.
portal
1. an entrance, gateway, or doorway, esp one that is large and impressive
2.
Anatomy
a. of or relating to a portal vein
b. of or relating to a porta
Collins Discovery Encyclopedia, 1st edition © HarperCollins Publishers 2005
Portal
An entrance, gate, or door to a building or courtyard, often decorated; it marks the transition from the public exterior to the private interior space.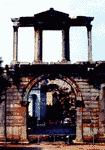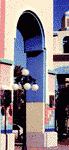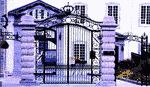 Illustrated Dictionary of Architecture Copyright © 2012, 2002, 1998 by The McGraw-Hill Companies, Inc. All rights reserved
The following article is from The Great Soviet Encyclopedia (1979). It might be outdated or ideologically biased.
Portal
in architecture, an opening, usually an entrance into a building. Typical ancient Egyptian and ancient Greek portals were simply ornamented and had level crosspieces. In ancient Mesopotamia portals were arched, and in the Near and Middle East peshtak portals were typical; these were rectangular and had a cut-out lancet arch. Beginning in the 11th century arched, or perspective, portals became widespread in romanesque, gothic, and ancient Russian architecture. These portals were projections whose corners had columns joined by archivolts. Renaissance and baroque portals usually had pilasters and columns that supported the entablature or frontal.
The Great Soviet Encyclopedia, 3rd Edition (1970-1979). © 2010 The Gale Group, Inc. All rights reserved.
portal
[

′pȯrd·əl

]

(anatomy)

Of or pertaining to the porta hepatis.

Pertaining to the portal vein or system.

(engineering)

A redundant frame consisting of two uprights connected by a third member at the top.

(mining engineering)

An entrance to a mine.

The rock face at which a tunnel is started.

McGraw-Hill Dictionary of Scientific & Technical Terms, 6E, Copyright © 2003 by The McGraw-Hill Companies, Inc.
portal
1. An impressive or monumental entrance, gate, or door to a building or courtyard, often decorated.
2. A structural framework consisting of a beam supported by two columns to which it is connected with sufficient rigidity to hold virtually unchanged the original angles between the intersecting members. (See illustration p. 752.)
McGraw-Hill Dictionary of Architecture and Construction. Copyright © 2003 by McGraw-Hill Companies, Inc.
PORTAL
(1)

Process-Oriented Real-Time Algorithmic Language.

["PORTAL - A Pascal-based Real-Time Programming Language", R. Schild in Algorithmic Languages, J.W. deBakker et al eds, N-H 1981].
portal
(World-Wide Web)

A

website

that aims to be an entry point to the

World-Wide Web

, typically offering a

search engine

and/or links to useful pages, and possibly news or other services. These services are usually provided for free in the hope that users will make the site their default

home page

or at least visit it often. Popular examples are

Yahoo

and

MSN

. Most portals on the

Internet

exist to generate advertising income for their owners, others may be focused on a specific group of users and may be part of an

intranet

or

extranet

. Some may just concentrate on one particular subject, say technology or medicine, and are known as a vertical portals.

This article is provided by FOLDOC - Free Online Dictionary of Computing (foldoc.org)
portal
(1) See Facebook Portal.

(2) A website that provides interactive services for users, not just links to other pages. Any site that stores a user's personal data can be called a portal; for example, a banking, telephone or medical website.

(3) The original meaning of portal was a Web "supersite" that provides search, news, blogs, discussion groups and shopping. General-purpose portals such as Yahoo!, MSN and AOL also offer free email, while TV network and newspaper portals do not. Some portals allow the home page to be personalized (see personal portal). Prior to the Web, CompuServe and AOL functioned as portals, aggregating information from various sources.

The "Vortal" Vertical Portal
Trade magazines, associations and special interest groups host vertical portals (vortals) that provide news and articles applicable to their industry. The vortal may include top news stories and weather, but search is typically limited to its own archives. See corporate portal, business intelligence portal and portal server.

Copyright © 1981-2019 by The Computer Language Company Inc. All Rights reserved. THIS DEFINITION IS FOR PERSONAL USE ONLY. All other reproduction is strictly prohibited without permission from the publisher.