porthole
Also found in:
Dictionary
,
Thesaurus
,
Medical
,
Legal
,
Wikipedia
.
porthole
a small aperture in the side of a vessel to admit light and air, usually fitted with a watertight glass or metal cover, or both
Porthole
A small window, usually circular, in a ship's side, or on an exterior part of a structure.
Porthole
a glass window in the hull or superstructure of a vessel for illuminating and ventilating interior spaces. Ship portholes may be round (side portholes and deck-cabin portholes) or rectangular (deck-cabin portholes) and may be deadlights or of the opening type, often with waterproof covers. Selection of the type of porthole is determined by the place where it is to be installed and the distance to the waterline. The round windows of underwater research vessels, airplanes, helicopters, and spaceships are also called portholes.
porthole
[

′port'hōl

]

(design engineering)

The opening or passageway connecting the inside of a bit or core barrel to the outside and through which the circulating medium is discharged.

(engineering)

A circular opening in the side of a ship or airplane, usually serving as a window and containing one or more panes of glass.
access door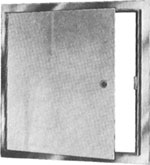 A door, usually small, which is provided through a finished construction, as into a duct, through a ceiling, behind a wall, in a large piece of mechanical equipment, etc.; used to provide a means of inspection of equipment or services housed within.