portico
(redirected from porticos)
Also found in:
Dictionary
,
Thesaurus
.
portico
portico
(pôrˈtĭkō)
, roofed space using columns or posts, generally included between a wall and a row of columns or between two rows of columns. In Greece the
stoa
was a portico of the first type; in Greek temples porticoes terminated the front and rear ends of the
naos
—called pronaos and opisthodome, respectively—and were included in the colonnade surrounding the building. Roman temples, rarely peripteral (surrounded by columns), had a portico at the front end only. Such temples were called prostyle temples; those having porticoes at both front and rear were termed amphiprostyle. The projection of Roman porticoes was generally three columns deep. In recessed porticoes the front colonnade is flanked by the extended side walls of the building, as in most Greek examples.
The Columbia Electronic Encyclopedia™ Copyright © 2022, Columbia University Press. Licensed from Columbia University Press. All rights reserved.
Portico
A range of columns or arches in front of a building, often merged into the facade, including a covered walkway of which one or more sides are open. It includes every kind of covered ambulatory.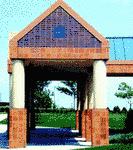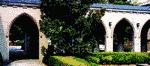 Illustrated Dictionary of Architecture Copyright © 2012, 2002, 1998 by The McGraw-Hill Companies, Inc. All rights reserved
The following article is from The Great Soviet Encyclopedia (1979). It might be outdated or ideologically biased.
Portico
a projecting part of a building, open on one or three sides and formed by columns or arches that support the roof. The portico is usually at the main entrance and is covered by a pediment or attic.
Porticoes were widespread in antiquity and were part of the architecture of ancient Greek temples; during that epoch freestanding porticoes were also often constructed. The portico was also important in modern European architecture, particularly during the classical period of the 18th and the first third of the 19th century. In 19th- and 20th-century architecture, pillars have often substituted for columns in portico construction.
The Great Soviet Encyclopedia, 3rd Edition (1970-1979). © 2010 The Gale Group, Inc. All rights reserved.
portico
[

′pȯrd·ə'kō

]

(architecture)

A colonnade or other sheltered place to walk in.

McGraw-Hill Dictionary of Scientific & Technical Terms, 6E, Copyright © 2003 by The McGraw-Hill Companies, Inc.
portico
1. A covered entrance whose roof is supported by a series of columns or piers, commonly placed at the front entrance to a building.
2. A stoa.
McGraw-Hill Dictionary of Architecture and Construction. Copyright © 2003 by McGraw-Hill Companies, Inc.
portico
1. a covered entrance to a building; porch
2. a covered walkway in the form of a roof supported by columns or pillars, esp one built on to the exterior of a building
Collins Discovery Encyclopedia, 1st edition © HarperCollins Publishers 2005