Power Shovel
(redirected from power shovels)
Also found in:
Dictionary
,
Thesaurus
.
power shovel
[

′pau̇·ər 'shəv·əl

]

(mechanical engineering)

A power-operated shovel that carries a short boom on which rides a movable dipper stick carrying an open-topped bucket; used to excavate and remove debris.

McGraw-Hill Dictionary of Scientific & Technical Terms, 6E, Copyright © 2003 by The McGraw-Hill Companies, Inc.
The following article is from The Great Soviet Encyclopedia (1979). It might be outdated or ideologically biased.
Power Shovel
(1) A type of single-bucket excavator characterized by rigid linkage between the arm and the bucket. Power shovels may be of the scoop or backhoe type. The straight scoop is used for excavations in construction, for stripping and mining in open pits, and for scooping out ore in underground mines (tough rock formations are first loosened by explosives). Power shovels for construction usually have buckets with a capacity of up to 3 cu m; those for opencut mining, 2–22 cu m; those for stripping, up to 150 cu m; and those for underground mining, up to 3 cu m. Soviet straight-scoop power shovels have buckets with a capacity of 0.25-35.0 cu m. Preparation is in progress for the production of power shovels with a bucket capacity of 100 cu m. The annual productivity of a power shovel is 120,000-250,000 cu m per cubic meter of bucket capacity, and the corresponding energy consumption is 0.4-0.8 kilowatt-hour per cu m, depending on the conditions of operation.
The backhoe differs from the straight scoop in the direction of motion of the bucket; it is used for the excavation of ditches and trenches and for other work in which the excavation level is below the level of the excavator. Soviet backhoe power shovels have bucket capacities of 0.15-2.0 cu m. Their productivity is about 20 percent lower than that of straight scoops with the same bucket capacity.
(2) A cable-scraper unit for unloading bulk materials (grain, cement, and so on) from covered railroad cars.
The Great Soviet Encyclopedia, 3rd Edition (1970-1979). © 2010 The Gale Group, Inc. All rights reserved.
Power shovel
A power-operated digging machine consisting of a lower frame and crawlers, a machinery frame, and a gantry supporting a boom which in turn supports a dipper handle and dipper. The machines are powered by on-board diesel engines or by electric motors. Diesel-powered machines utilize a series of clutches and brakes that allow the operator to control various motions. Electric motor machines generally have individual motors for each motion, but occasionally clutches and brakes are used allowing one motor to drive two motions. See Bulk-handling machines, Construction equipment, Hoisting machines
McGraw-Hill Concise Encyclopedia of Engineering. © 2002 by The McGraw-Hill Companies, Inc.
power shovel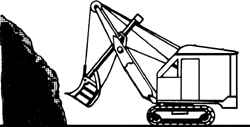 1. A power-operated machine used to excavate and load dirt, rock, or debris by means of an open-ended bucket at the end of an arm which is suspended from a boom; cables or hydraulic rams force the arm (and therefore the bucket) forward and upward, into the material; then the bucket is raised and its load is dumped.
2. A machine having a scoop or bucket for digging up or removing loose material.
McGraw-Hill Dictionary of Architecture and Construction. Copyright © 2003 by McGraw-Hill Companies, Inc.